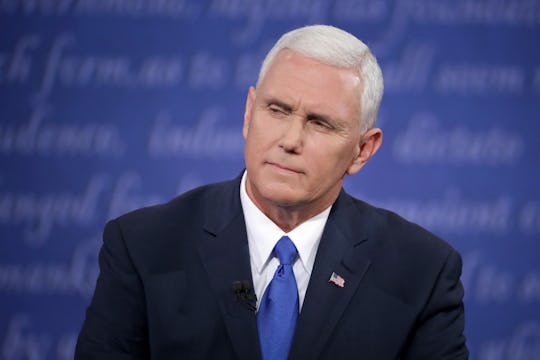 Chip Somodevilla/Getty Images News/Getty Images
Will Mike Pence Drop Off The Ticket With Trump? Anything Is Possible At This Point
Wow, what a debate night. On Sunday, it was nearly impossible to keep up with quip after quip and quote after quote from both presidential candidates at the second presidential debate. One of the most shocking things to come out of GOP candidate Donald Trump's mouth was on the topic of Syria, and how he and his running mate, Indiana Gov. Mike Pence, seem to be at odds as to how to proceed in the war-ravaged region. When moderator Martha Raddatz confronted Trump with Pence's exact words, Trump said, "He and I haven't spoken and we disagree." With this bombshell, will Mike Pence drop off the ticket with Trump?
Many have already speculated that Pence's performance at the vice presidential debate last Tuesday was just a practice run for a potential presidential run in 2020; Pence is a career politician with big aspirations on the Hill. That said, Pence seemed to throw his support behind his running mate when, immediately following the end of the debate, Pence tweeted: "Congrats to my running mate @realDonaldTrump on a big debate win! Proud to stand with you as we #MAGA." However, with a campaign like Trump's that has been somewhat (or definitely) off the rails since day one, anything is possible as election season unfolds. The Pence campaign didn't immediately return Romper's request for comment.
Pence's tweet was surprisingly upbeat, given that his most recent tweet about his running mate was a statement regarding the leaked Access Hollywood recording of Trump's deplorable remarks about women. "I do not condone his remarks and I cannot defend them," the statement read in part.
Interestingly enough, this deniability echoed Pence's own behavior at the vice presidential debate, as he failed to address his Democratic opponent repeating Trump's own words back to him at multiple points throughout the night. Pence denied that Trump said just about anything that Sen. Tim Kaine recalled — at times verbatim — insults and quotes that Trump has said throughout his campaign. Pence just straight up gaslighted Kaine through the entire debate.
More tellingly, Pence went way off script at the vice presidential debate when it came to the Syrian conflict and Russia's involvement. Pence said "provocations by Russia need to be met with American strength." This hawkish position went far beyond anything Trump has said regarding Syria or Russia, especially the latter — Trump has a total man crush on Russia's President Vladimir Putin to the point that it's just weird now. When Trump confirmed Sunday night that he hadn't spoken to Pence about the diversion since the vice presidential debate, it begs the question: Just how unified is the Republican ticket right now?
Pence certainly wouldn't be the first Republican to jump ship from the sinking vessel that is the Trump campaign right now: At least two dozen Republicans have either reversed their Trump endorsements and/or called for Trump to drop out of the race entirely in the wake of his lewd recording scandal. With the dumpster fire of the most recent Trump scandal far from extinguished, who would blame Pence for dropping off the GOP ticket if he did? For now, it looks like Pence is sticking by his beleaguered running mate — dumpster fire and all.