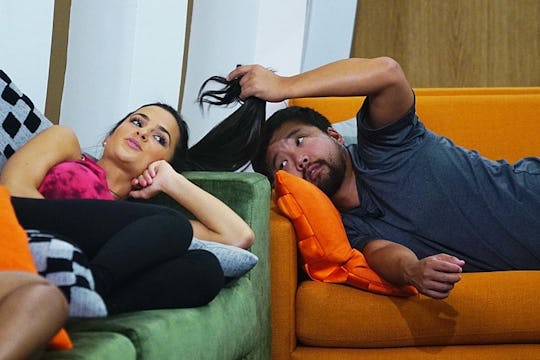 Monty Brinton/CBS
Will Natalie & James Hook Up On 'Big Brother 18'? They Have Amazing Chemistry
I may be counting my eggs before they hatch, but there may be a legit showmance brewing between the resident cheerleader and insanely sweet guy friend on Big Brother 18. If you watch the feeds, then you know that there is definitely something brewing between James and Natalie inside the Big Brother house. So, will Natalie and James get together on Big Brother? Never say never. For a little while now, Natalie and James have been all about sharing beds and pulling dual pranks — basically being generally awesome together — so it's not too much of a stretch to think that the fun friendship might turn into something even more awesome. You know, like a bona fide showmance.
Natalie, the former cheerleader, and James, the Texas native who was voted as America's Favorite after last season of Big Brother, would be nothing short of an adorable and amazing couple to have rise on the show. In the very beginning of the season, we saw something seem to be brewing between Natalie and Victor, but thank the Big Brother Gods that whatever it was fizzled out real quick. Especially since Natalie actually said herself that James is totally her type. That's right — she actually admitted it. Can we start shipping them now?
When Natalie asked the other girls, with a huge grin, "What if me and James end up dating?" it didn't take long for Big Brother fans and Twitter to get behind the would-be couple. And the idea isn't coming out of thin air or anything, because these two have been getting close for awhile now. It could be that they're on the same team together, or that Natalie is actually cool and not just another gorgeous houseguest, since she is all about getting in on James' pranks and generally being his "person."
When you have two Big Brother houseguests like Natalie and James acting downright giddy with each other as they play-fight or chase each other around, and then settle in for bed with Natalie as the big spoon, you have the recipe for what will probably be the cutest potential Big Brother couple. They may each be a part of conflicting alliances (Natalie, with the Anti-Vets and James with the Vets), but the possible showmance between Natalie and James on Big Brother is giving fans life.
In a house that was just last week incredibly divided before the first eviction ceremony, seeing the relationship between James and Natalie blossom makes me grin from ear to ear like an idiot, but that's just because the very idea of the two of them is freaking adorable. Basically, it's what we needed to make the Big Brother house not so divided. OK, not really, but of any of the possible showmances blossoming these first weeks of Big Brother 18, the one between Natalie and James is the one to follow and become obsessed with. You have to love them, even if the 8-Pack doesn't care to keep Natalie in the game for too long, and even if nothing real comes from it.
When it's all said and done, will James and Natalie get together on Big Brother? As of right now, it's anyone's guess, since the game and season are still so new. But we can certainly hope for it and continue to enjoy every cuddle session, tickle fight, and game of tag around the Big Brother house.