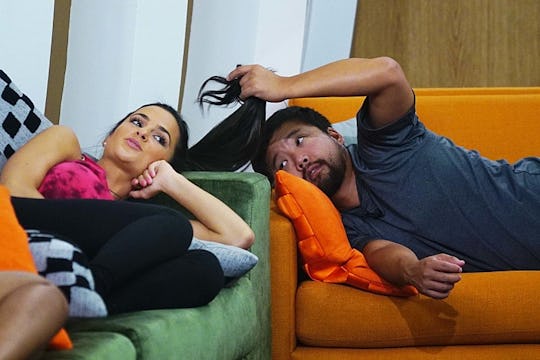 Monty Brinton/CBS
Will Natalie Take James To The Final 2 On 'Big Brother'? They've Been A Team All Season
For almost the entire season of Big Brother 18, Natalie and James have been teamed up, developing a showmance and being all around besties. But with an eviction coming Thursday night, it means that we're about to be down to the final six. So, will Natalie take James to the final two on Big Brother? If she has the option to take any of the remaining houseguests down to the final two with her, then chances are, it will be James. She may think that she's in good with Corey and Nicole and even Paul and Victor, but the four of them are currently teamed up to be the final four in a super secret alliance.
That being said, once Michelle leaves Thursday night (because it's looking that way for poor Big Meech), Natalie will have just James as her one legitimate ally in the house and since they've come this far together, it only makes sense that they finish Big Brother together. Even if they aren't together as a couple, because if it comes down to the wire, there will be only one winner of Big Brother 18 and James can't be the good guy like he was with Nicole and throw any competitions to Natalie so that she can win. It's like the one time to not be a nice guy.
On the Big Brother live feeds early Wednesday morning, James confided in Michelle about his worries with Natalie and their showmance. He revealed that Natalie had been distancing herself lately, preferring to sleep alone, and basically pushing him away. Michelle assured James that it was just because the "honeymoon phase" was ending, but James said this his feelings were exactly the same as they'd been at the beginning. So is Natalie pushing James away because she's eventually going to sit him down and have the "let's be friends" talk? Or does it just have to do with being in the same house with the same people for almost three months?
Even if Natalie and James don't last through the season as a couple, Natalie will take James to the final two on Big Brother because she'll have no choice. Provided that Michelle is evicted Thursday night, the house will then be completely divided into teams of two - the bromance and the two showmances. I can't see Natalie building a last minute alliance with anyone else, least of all any of the four people who aren't interested in having her back. So strategy-wise, if it comes down to it, Natalie will most likely take James to the final two. Hopefully that doesn't also mean that she'll coax him along the way, hoping to secure the $500,000 win for herself though, because Jamesy does not deserve that.
Before we can even think about that, though, either James or Natalie will have to win the next Head of Household competition, because if any of the other four houseguests do, we'll likely see both James and Natalie up on the block.