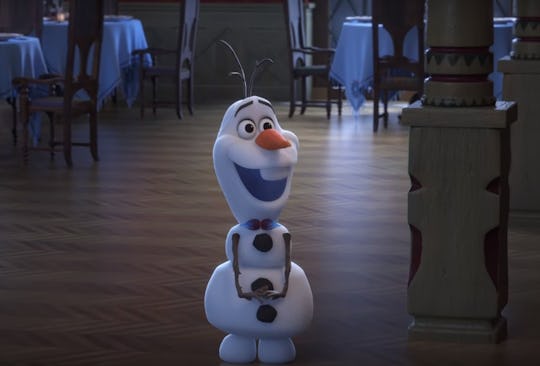 Walt Disney Animated Studios
Here's Why You Probably Won't See 'Olaf's Frozen Adventure' On Netflix
With Frozen remaining as one of the most loved Disney movies even now, four years after its initial theatrical release, you would think that it would be easy to stream the movie at any given time. But while it might have been on Netflix in some countries before, it's not available in the U.S. currently, which makes you wonder if that means all Frozen-related things will follow suit. For example, will Olaf's Frozen Adventure be on Netflix? There hasn't been an announcement yet about if the holiday special — which airs this Thursday, Dec. 14 on ABC at 8 p.m. EST. — is eventually moving to the streaming service. But since Frozen itself isn't on there, I wouldn't hold my breath.
In fact, back in August, Disney announced that it would soon end its partnership with Netflix and instead plans to launch its own video-on-demand streaming platform in 2019, giving a home to Pixar movies and their upcoming sequels, including that of 2013's Frozen. So I can only assume that if Olaf's Frozen Adventure gets a permanent streaming spot, it's going to be on Disney's forthcoming streaming platform.
"This acquisition and the launch of our direct-to-consumer services mark an entirely new growth strategy for the company, one that takes advantage of the incredible opportunity that changing technology provides us to leverage the strength of our great brands," Disney CEO Bob Iger said in a statement obtained by Variety. "For many sports fans, this app will become the premier digital destination for all their sports content."
Although there hasn't yet been any more information about when exactly in 2019 the Disney streaming platform will be ready for users and how much a subscription will cost, Iger recently told PCMag.com that Disney also plans to develop roughly five original movies per year for the streaming service alone. It makes sense, though, since DreamWorks Animation recently expanded its own deal with Netflix to now include original series and quick releases of recent DreamWorks animated films, like the Trolls holiday special that recently aired on TV.
Needless to say, the geniuses over at Disney probably aren't going to be parting with Frozen's holiday special to allow Netflix, a future competitor, to host the 22-minute short on its app or website. Disney clearly wants to tap into the streaming market, and really, who can blame them?
However, since Hulu does have some content from ABC, it's possible that the Frozen special might find a temporary home there, especially since Hulu is known for streaming new episodes of TV shows, as opposed to Netflix's formula of adding seasons at a time, rather than weekly episodes.
For now, you may be able to rewatch Olaf's Frozen Adventure on ABC.com to relive everyone's favorite talking snowman (yes, he just might be above Frosty himself) and the fictional snow-covered world that young fans have become obsessed with over the past few years. With the clear lack of Disney and Pixar movies on Netflix, though, it's safe to say that Disney's plans for its own streaming platform are very real.
While Netflix has become a hub of amazing TV and movies for many viewers who prefer to stream above all else, Disney has chosen to embark on its own platform and eventually, Olaf's Frozen Adventure will likely be a part of that. Am I happy about it? Of course not. I'd much rather be able to watch this adorable short whenever I want to. But, in the words of Elsa, I suppose I'll just have to... let it go! (Sorry, I couldn't help myself.)
Check out Romper's new video series, Romper's Doula Diaries:
Watch full episodes of Romper's Doula Diaries on Facebook Watch.