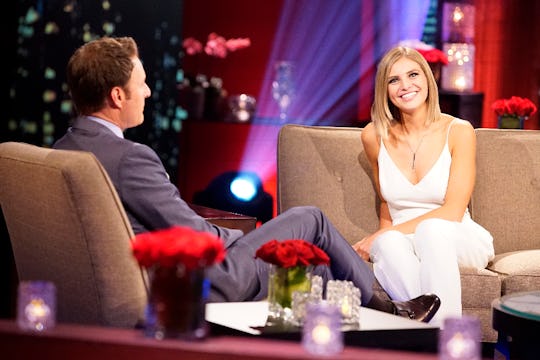 ABC/Kelsey McNeal
Will Olivia Be At 'The Women Tell All'? The Controversial 'Bachelor' Contestant Will Have A Lot To Say
Season 20 of ABC's hit reality television series The Bachelor might be remembered for featuring Texas-based news anchor Olivia Caridi, one of the least-liked contestants in Bachelor history. As the season winds down, fans are wondering: Will Olivia be at The Women Tell All special tonight? Those who have dearly missed the Olivia's mouth tweets on Twitter will be relieved to learn that, yes, not only will Olivia be at The Women Tell All, but it seems that she'll have a lot to say.
In case you've forgotten, Caridi is the contestant who jumped out of a giant cake and performed an awkward striptease when bachelor Ben Higgins and the Bachelor contestants traveled to Las Vegas. The fallout over that striptease was mean-spirited and judge-y, but what goes around comes around, because Caridi herself had a tendency toward mean. Not only did she repeatedly interrupt other contestants' one-on-one dates with Ben, she also made fun of fellow contestant Amanda Stanton for being a single mom. At nearly every turn, Caridi had difficulty getting along with the other ladies. At one point, she explained to Higgins that she can't relate to the other women because they like to paint their nails and do their hair, while she, in contrast, likes to "talk smart things."
Well, the chickens have come home to roost, because during tonight's Women Tell All episode, Caridi will face off with all the other Bachelor contestants who were eventually discarded by Higgins. According to Us Weekly, contestant Jennifer Saviano will confront Olivia about having interrupted Saviano's one-on-one with Higgins. "For me, that was her saying, 'You know, Jen? Screw you—I don't care about you,'" Saviano says in a preview for the episode. According to the Inquisitr, Caridi will also be confronted by Amanda Stanton over the single mom comments.
In a recent Glamour interview, Caridi tried to set the record straight about her behavior on the show. She explained that some of the footage was edited to make her look bad. For example, in the episode where Higgins learned that a family friend had recently passed away, the viewers are shown footage of Caridi complaining about her cankles. Caridi told Glamour that the ankle fat comment had been preceded by her offering her condolences—but the producers cut that part.
"I don't feel like Olivia—me—ever really made air. It was a tough experience," Caridi said. She also told Glamour that she and Higgins wouldn't have worked out as a couple, despite the fact that she professed her love for him—repeatedly—on the show. "I believe that it ended the way it was going to anyway," she said.
The Women Tell All special might give Caridi the opportunity to tell her side of the story, though it looks like she'll be more on the receiving end. In a TV series that's all too known for w0man-on-woman bullying, we can only hope that the other contestants will give her the benefit of the doubt, and listen to what she has to say.