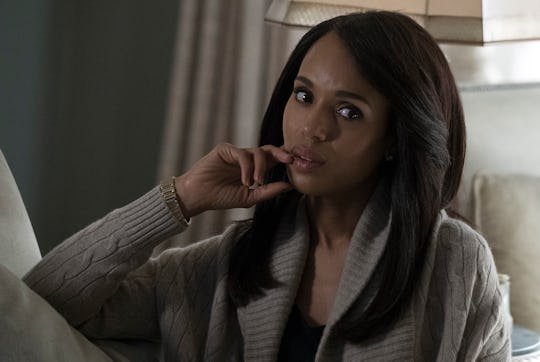 Richard Cartwright/ABC
Mellie Gives Olivia Her Toughest Task Yet On 'Scandal'
With just three episodes left of Scandal until the series ends for good, all bets are off. This means that at any time, anyone can die, and since the show is ending soon, it's probably a good idea to kill off some of the bad guys for once. On Thursday's episode, Mellie asked Olivia to do the dirty deed herself by getting rid of Cyrus, but will Olivia kill Cyrus on Scandal for real?
Like much of the season, the episode, titled "The Noise," was a rollercoaster of action. There were several interactions between Olivia and Quinn that helped to finally mend their broken relationship and you couldn't help sit on the edge of your seat every time Charlie's fate was put into question. Like I said, it's getting so close to the end, so nothing is really off the table. That being said, could Olivia really take the leap and kill someone she's known for longer than she's even known Fitz and literally everyone else in her inner circle?
It wouldn't be the first time she's killed someone, so that's not much of a concern, but as Huck said, she's finally back to being the old Olivia and killing a man might send her back over the edge.
Olivia's character arch has been intense this season, beginning with her as Command and coming back around to having to make amends with the team of gladiators she once called her closest friends. But, as Darby Stanchfield (Abby) told TV Guide, Thursday's episode was meant to set the tone for the remaining episodes in terms of who Olivia will be and the choices she's going to make.
"This is kind of the beginning of what is set up for the last three episodes. She's really coming to terms with why is she doing what she's doing," Stanchfield said of Olivia. "She's going through a rigorous self-examination in a way that she has not for a very very long time. Her appetite for power superseded any moral compass."
Olivia's moral compass has been sort of out of wack for a while and now that she finally seems to be on the right track to wearing a white hat again, killing Cyrus might not be the best idea. Then again, it is what's best for literally everyone and she's be doing a service rather than committing a selfish act.
In the preview for the next episode, "People Like Me," Mellie is shown declaring that "This is war" and Huck expressing concern about what this enormous favor to Mellie could do to Olivia and the progress she's made as a person. I can't say I disagree with his issue about Olivia killing Cyrus, but I also can't handle the possibility that he gets away with everything he's done.
In honor of Scandal coming to an end for good, ABC released a video retrospective showing the cast and what they see for their characters as the season closes out. Although most of the cast has hopes for a happy ending overall, Kerry Washington said in the video, "The only human that's guaranteed to have a happy ending at the end of Scandal is Shonda Rhimes." When the show began years ago, it was about the white hats, or the good guys, of the fictionalized Washington, D.C. fighting for what'd right, and I can't see it ending any other way.
I don't know what that means in terms of happy endings all around, but I do see Olivia killing Cyrus for the sake of everyone else's lives as a real possibility. And I'm honestly not at all mad about that.
Check out Romper's new video series, Romper's Doula Diaries:
Watch full episodes of Romper's Doula Diaries on Facebook Watch.