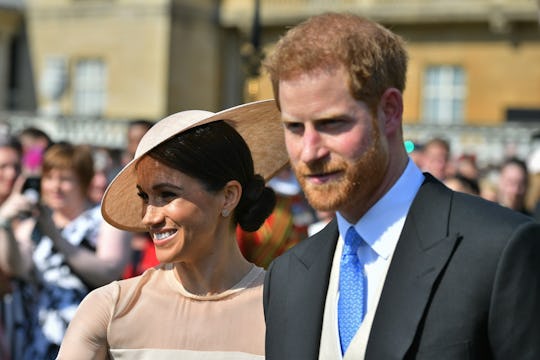 WPA Pool/Getty Images Entertainment/Getty Images
Prince Harry & Meghan Markle Are Already Making Royal Appearances, But Will They Visit The U.S.?
Now that Prince Harry and Meghan Markle — aka the Duke and Duchess of Sussex — are all done with wedding planning, they have much more time in their schedules. And since prominent royals often get many travel opportunities, many Americans are likely wondering if Prince Harry and Meghan Markle will visit the United States anytime soon, especially considering the fact that the former Suits star is American herself.
While the royal couple has not officially confirmed any travel plans for a visit across the pond, there have been several rumors about them heading to North America sometime soon. Royal expert Katie Nicholl recently spoke with Entertainment Tonight about the couple's alleged plans to visit the duchess' father, Thomas Markle, in Mexico. The elder Markle was unable to walk his daughter down the aisle at the last minute, as he was recovering from an unexpected heart surgery.
"I hear one of the things they want to do sooner than later — and now that they're married — is to go and see Thomas Markle, who is recovering from a heart operation," Nicholl told Entertainment Tonight. "We don't know when this trip might happen. ...I'm hearing from people close to Meghan and Harry that they're very keen to do it."
Nicholl added that Prince Harry reportedly really wants to meet his wife's father, and Markle wants to see him as soon as possible. "He feels it's very important that he gets to meet Thomas," she told Entertainment Tonight. "Of course, Meghan — who's been really concerned about her father's health — is keen to go see him as soon as possible."
Some have taken Nicholl's speculative comment as fact, reporting that the newlyweds are expected to visit Thomas in Mexico soon, and that they will be visiting him there soon. However, it's still just one unsubstantiated comment and not a confirmation.
Additionally, Express has reported that Markle's father is actually recovering from his surgery in California, which is where she grew up. If that's true, a trip to the United States could be in the cards for the royal couple instead.
Right after their wedding, Prince William and Kate Middleton, the Duke and Duchess of Cambridge, embarked on a honeymoon to The Seychelles in Africa, reported Hello! Magazine. Their first official joint overseas trip was a few months later, when they went to both Ottowa, Canada and Los Angeles, California, as reported by The Guardian.
All that being said, Markle and Prince Harry have already made their first public post-wedding appearance as a married couple. On Tuesday, just three days after their wedding, they attended Charles, Prince Of Wales' 70th Birthday Patronage Celebration at Buckingham Palace (even though his 70th birthday isn't until November). This appearance proves that Prince Harry and Markle are wasting no time in getting their royal duties on, and it wouldn't be surprising if they went on an official trip soon.
Furthermore, the couple has not commented on their honeymoon plans, though many have speculated where Prince Harry and Markle might be going. Bookies feel fairly confident they will go to an African country, with Namibia, Botswana, and Tanzania coming out on top of their predictions, as reported by Express. Plus, a source reportedly confirmed that the couple would be spending their honeymoon in Namibia, according to Travel + Leisure.
Whether or not Prince Harry and Markle choose to go on a honeymoon, they will have plenty of chances to travel as the duke and duchess. As representatives of the queen, Prince Harry and Markle will travel to other countries to meet with foreign dignitaries and do humanitarian work. Specifically, Queen Elizabeth II named Harry as a Youth Ambassador for the Commonwealth. He later announced that Markle would be joining him as an ambassador, reported The Telegraph. For their new roles, they are set to go on overseas tours of the Commonwealth (all the countries that were previously part of the British Empire), where Prince Harry and Markle will meet with young people to discuss how they can help the youths change the world, The Telegraph explained.
It's clear that Prince Harry and Markle have plenty of worldly travel opportunities — and opportunities to change the world — on the horizon. Only time will tell where they end up next.