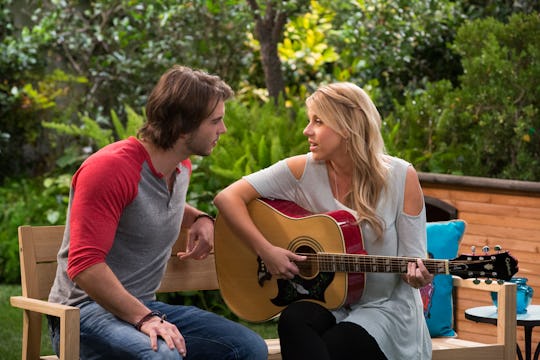 Mike Yarish / Netflix
'Fuller House' Just Got Real About Infertility & They Totally Nailed It
Warning: Season 3 spoilers ahead! When Stephanie revealed that she couldn't have kids back in Season 1, it was a heartbreaking moment to watch, especially since it's a struggle many women face in real life. And while this topic hasn't been addressed much since then, Season 3 made a point of highlighting the options available to women with fertility issues. In Episode 8, Becky shows up and takes Steph to see a fertility specialist, where she finds out that she has viable eggs and could have a baby via a surrogate with the help of In Vitro Fertilization (IVF). So will Stephanie and Jimmy have a baby on Fuller House? It's totally possible.
Understandably, it's a lot of information for Stephanie to process so quickly. At first, she's absolutely thrilled that IVF is an otpion for her to persue, especially since she really wants to be a mom. But the cost of extracting her eggs and hiring a surrogate makes her feel as though she's unable to afford it, given her lack of funds. And kudos to the show for demonstrating how financial stress can play a major part in the decision making proccess when considering IVF. According to Forbes, the average cost of one round of IVF is a staggering $12,000, before medications. Medications, typically, cost an additional $3,000 to $5,000. The PGD step of the process costs another $3,000 to $6,000 dollars so, conservatively, it cost about $20,000 to "have a healthy child utilizaing a procedure that is successful (most optimistcally) about 40 percent of the time." However, Stephanie's loved ones immediately come out to support her.
The whole family gets together and pledges to throw in whatever money she needs to make a baby happen. Uncle Jesse and Aunt Becky are down to throw some money her way, along with the Gladstones, and even the Gibbler crew. D.J. reports that Danny told her, "whatever Stephanie needs." In other words, it's a classic Fuller House family moment and I'm not crying, YOU'RE crying.
But paying for and starting IVF is not as simple as it sounds (and make no mistake, nothing about the process is "simple"). Stephanie is dating Kimmy's brother, Jimmy, and they're an adorably happy couple. They fall in love at first sight in the first episode of Season 2, looking longingly into each others' eyes. They're doing really great — but their relationship is still new. Once Stephanie learns that she can go through with the process, she starts to look for a sperm donor before leaving for Japan.
Kimmy suggests telling Jimmy, since the Gibbler DNA is top notch. (Cue the obligatory eye roll.) Stephanie says that she doesn't want to pressure Jimmy into taking a child on and putting so much pressure on their relationship, but Kimmy being Kimmy ends up accidentally telling him 22 minutes later. Jimmy is visibly bummed to hear that Stephanie is looking through a binder of potential donors, including geniuses, artists, and even notary publics. ("Those guys are so cool," Jimmy points out.)
Before leaving for Japan, Jimmy tells Steph that he knows what she's up to and asks her why he can't be her baby daddy. He even tries to show her what a good parent he'd be by helping her prepare for the plane ride and show that he's not forgetting anything. But Steph puts him off — telling him that she loves him, but doesn't want to talk about it yet — and heads to the airport. But Jimmy thinks the conversation is too important to wait on, so he buys a ticket on the same flight, runs to the airport, and tries to convince Steph that he's in this with her for the long haul.
He solves a Rubix cube, plays the flute, and even notarizes documents in front of her (and the rest of the passengers). In the end, it was enough to prove to Stephanie that she was ready to take this next step with her man. So now that they're on the same page, will another baby be filling up the Fuller house soon? Fans will just have to wait and see.
Episode 9 is not the finale. There are nine more episodes that are going to be released later this year, which means that the second half of the season will probably deal more with Stephanie's important storyline. I, for one, am very interested to see where this goes, and I'm sure I'm not alone. According to CNN, more women than ever before are using IVF to get pregnant, and according to the Society for Assisted Reproductive Technology, 61,740 babies were born as the result of IVF in 2012. Thanks to Fuller House, these women and their families just might get a chance to see their stories played out on the Netflix screen.