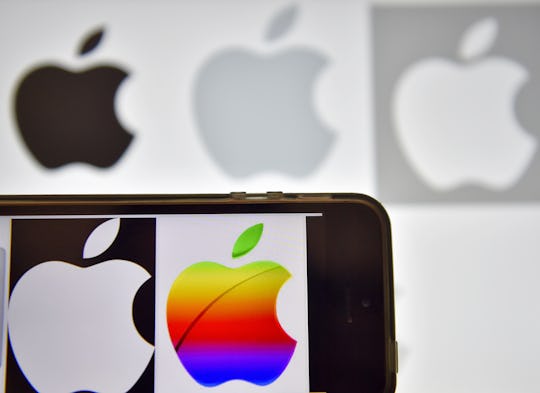 LOIC VENANCE/AFP/Getty Images
Everything You Need To Know About The AirPower Charger For The iPhone X
Few things say "fall" as much as a brand new apple. Fruit or iPhone, obviously. Especially this year, now that Apple has finally decided to launch the much-awaited iPhone 8 as well as the iPhone X. But naturally, the new iPhones weren't the only products to get excited about at the Apple iPhone Event at the Steve Jobs Center in Cupertino, California. Apple fanatics were breathless with excitement to hear about a new wireless charger that could make life so much easier. Especially if it is sold as a kit alongside the new iPhone — now that would be convenient. Whether or not the new AirPower charger will come with the iPhone X is still up in the air, but let's face it; we're all going to want one either way.
The AirPower charging mat, which Apple has said it is still in the process of developing with Wireless Power Consurtium Qi wireless compatibility, would ostensibly offer customers the chance to charge their iPhones, Apple watches, and Air Pods on one mat. As the product is still in development, no word about price point or how the charging pad will be sold was shared at the Apple iPhone event. Barring any unforeseen circumstances, the AirPower charging mat is expected to launch in 2018.
While customers might have to wait until the new year to get a gander at the AirPower charging mat, the hotly-anticipated, elite iPhone X is expected to hit shelves by November (fans can pre-order starting Oct. 27, according to USA Today). The iPhone X is already considered the cream of the crop as far as the three new iPhones (iPhone 8, iPhone 8 Plus, and iPhone X) introduced at Tuesday's Apple event are concerned; the first iPhone that will be entirely a screen and have facial recognition.
This facial recognition technology is expected to reduce privacy issues drastically; Apple claims that the odds of having someone break into your iPhone X at around one out of 1 million, rather than one out of 50,000 as it is with Touch ID fingertip sensor.
The iPhone X, which was introduced in conjunction with iPhone's 10th anniversary, will retail starting at $999. But it certainly seems as though customers will be getting a lot of bang for their buck. The design is expected to be deceptively sleek and simple, according to the Apple website, while offering the most advanced technology to date:
To create a continuous surface, with nothing to get in the way of your experience, we replaced the Home button with new yet familiar ways to navigate. iPhone X is a true High Dynamic Range (HDR) display. You can watch movies and shows in Dolby Vision and HDR10. Your HDR photos will look even more amazing. And you'll be able to watch HDR titles from iTunes, Netflix, and more.
And of course... wireless charging capabilities. If the sneak peek shared by Apple CEO Tim Cook at the Apple iPhone event was anything to go by, the charging mat should be pretty extraordinary. Apple products will start charging the second they are placed on the sleep, white-on-white AirPower mat, and the iPhone X will be equipped to display updates about your battery power through an easy-to-read interface.
The AirPower charging mat doesn't simply charge your devices either; according to TechRadar, the mat allows devices to communicate with each other, managing power sources together as a unit. This is a first in the world of technology. As Apple's head of marketing Phil Schiller said of the AirPower charger at the Apple event, according to TechRadar:
We hope people love it, that it encourages others to create more advanced solutions based on technologies like this.
It's a brave new world, folks.
Check out Romper's new video series, Romper's Doula Diaries: