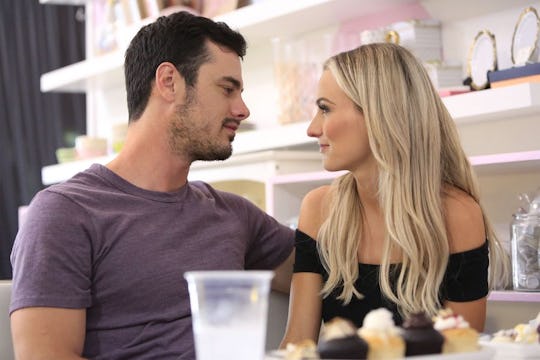 Greg Zabilski/Freeform
Will 'The Bachelor's Ben & Lauren Break Up? Their Future Isn't Looking Too Clear Right Now
If you followed Ben Higgins and Lauren Bushnell's love story on The Bachelor, then chances are you're still following their story after that final rose was given out. And if that's the case, then you know that lately, things haven't been looking so bright for the reality TV couple. In fact, on their show, Ben & Lauren: Happily Ever After?, Ben recently called off their wedding all together, so will The Bachelor's Ben and Lauren break up? Just because he called off the wedding for now, that doesn't necessarily mean that it is going to lead to the end of Ben and Lauren as you know them. But then again, their relationship didn't exactly get off to the most solid start.
Of course, Ben and Lauren were able to find love with each other on The Bachelor, but not before Ben was walking around telling two women he loved them and trying to figure out which of them he should choose. Basically, their relationship began for real the moment Ben stopped dating his other girlfriend, for all intents and purposes. Then, Ben and Lauren were thrust out into the real world (and the spotlight), where they were already engaged and expected to live as a normal couple. And for two people who began their journey on a reality TV show, that's a lot of pressure to be under.
So will Ben and Lauren break up? The Bachelor couple have already shown some highs and lows of their relationship on their show, but Ben brought up a good point when he voiced his concerns over rushing into the actual wedding. And the fact that he was so open with Lauren before it was too late showed that maybe the couple does have a deeper connection than fans ever realized.
Ben & Lauren: Happily Ever After? is currently airing its first season, but in real time, Ben and Lauren are active on social media and still posting photos of themselves together, very much in love, and with Lauren still wearing that Bachelor rock on the correct ring finger. On the one hand, it could be all about appearances as their show airs, but that's a lot to go through to put up a front.
Ben called off the wedding for now, but in last Tuesday's episode, he told Lauren that it in no way means he's leaving her. And while it was definitely difficult for her to take in, in the end, she understood where he was coming from. But as far as Bachelor couples go, they aren't in great company. Of the 20 Bachelor couples, only three are still going strong today, while five of the 12 Bachelorette couples are still currently together. So the odds aren't exactly in their favor, but Ben and Lauren seem to have their communication on point. And with most couples, reality or not, that's kind of a big deal.