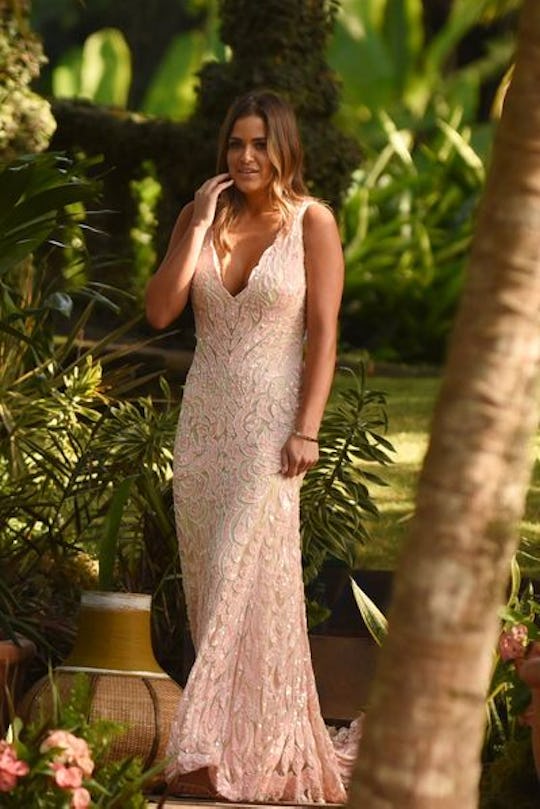 Matt Dunn/ABC
Ben Higgins Dumps JoJo Fletcher On 'The Bachelor' Finale, & It's Absolutely Heartbreaking
After ten weeks of animal bloopers, tropical storm-fueled getaways, and sensible midwestern half-zip pullovers, we've finally learned that Ben dumps JoJo on The Bachelor finale. On Monday's episode, Ben found himself in Jamaica with Lauren B. and JoJo — the final two contestants — both of whom Ben was in love with.
Up until now, Ben has been moving through eliminations fairly easily, with big decisions seeming to come pretty naturally — like letting Jubilee go in the middle of a cocktail party, eliminating Amanda after getting a glimpse of what it would be like to become an insta-dad, and dumping contestants like Caila and Olivia after realizing he couldn't say I love you back to them. But this elimination was different, since A) it was the last one, and B) Ben said he was in love with his final two contestants. But ultimately, he proposed to Lauren and chose to leave JoJo behind.
Both women proved themselves to Ben this season, with JoJo standing by him in spite of a rough family visit during hometowns, and Lauren B. opening up after an early-on vulnerability struggle and gracefully handling Leah privately throwing her under the bus to Ben.
But ultimately, Ben sent JoJo home.
"I'm so confused and blindsided," JoJo said to Ben after he broke her heart. "You told me you were in love with me, that I was your best friend, that you can't imagine life without me. So where did it go wrong?"
"It never did," Ben weakly replied.
JoJo also threw some pointed daggers Ben's way, telling him it was deceptive for him to tell her he loved her.
"I put my heart so far out there for you because I trusted you," she confessed. "For you to tell me how in love with me you were? You shouldn't have done that."
Before she stepped into the limo, however, JoJo managed a dignified, "I'm happy for you," to Ben for (presumably) the life he's going to start with Lauren B.
"JoJo gets the raw end of this deal," Ben confessed in a cutaway interview. "JoJo leaves hurting and I have to say goodbye to a women who doesn't deserve it. I don't deserve JoJo."
"I wish I could hate him or be really mad at him, but I can't," said JoJo as she was riding away in the limo. "I was getting my heart broken and I still didn't want to see him cry. I just want the kind of love that I can count on. That when somebody says they love me that they really mean it. That they're not going anywhere."
Ben got over his tears real quick, though, as he called Lauren's dad to ask his permission to marry her, and eventually proposed to the winner, Lauren Bushnell. As we've seen all season long, his interaction with JoJo felt much more emotionally charged than his happy, "polished" proposal to Lauren, which is part of why his choice felt so surprising.
It seemed as though his connection with JoJo was much more complex, but ultimately, Ben felt confident enough in his relationship with Lauren to choose her, in spite of admitting himself that he had never really been through anything difficult with her. Let's hope JoJo is recovering from her obviously devastating breakup better than Bachelor Nation is.