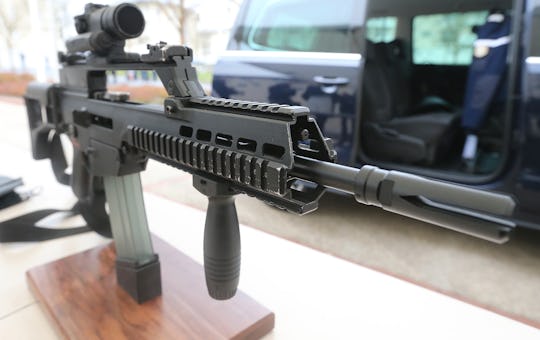 FRANCOIS NASCIMBENI/AFP/Getty Images
Will The Senate Gun Measures Pass? It's Unlikely That Democrats & Republicans Will Agree
Each time the United States experiences another mass shooting, the nation grieves, and then many hope that this will be a turning point in limiting the accessibility of lethal weapons for civilians. When the country experienced the worst mass shooting in its history last week, during which a gunman murdered 49 people inside a crowded gay nightclub in Orlando, Democratic Sen. Chris Murphy decided that was #Enough. Along with supporters from his own party, Murphy staged a 15-hour filibuster on the Senate floor just days later, and in the end succeeded in getting his Senate colleagues to agree to vote on proposed gun safety measures barring suspected terrorists from purchasing firearms and improving the background check system. But will the Senate gun measures ultimately pass?
The Republican-controlled Senate will vote on four gun safety amendments Monday, all to a Justice Department spending bill. Democrats and Republicans attempted to collaborate to create proposed legislation in response to last week's filibuster, but couldn't agree on key points. For that reason, Fox News reported before the vote Monday that all of the amendments are likely to fail.
After meeting with victims' families in Orlando last week, though, President Obama told reporters that they begged him to stop this from happening again, according to CNN.
"Our politics have conspired to make it as easy as possible for a terrorist or even just a disturbed individual to buy extraordinarily powerful weapons, and they can do so legally," the president said. "... I held and hugged grieving family members and parents and they asked, 'Why does this keep happening?'"
In an attempt to thwart yet another American mass shooting from happening, Sen. Dianne Feinstein, a California Democrat, proposed an amendment that would empower the attorney general to stop suspected terrorists from purchasing weapons. She first introduced the measure to the Senate in December after two shooters killed 14 people at an office holiday party in her home state. At the time, it failed, as conservative lawmakers consider it a violation of due process.
In response, a Texas Republican is planning on introducing an alternative: Sen. John Cornyn will attempt to garner support for an amendment that would ensure that law enforcement is informed when anyone on a terror watch list attempts to purchase a gun from a licensed dealer, and allow the attorney general to block the sale for up to 72 hours while a court reviews the transaction. While the National Rifle Association came out in support of this after the Orlando massacre, Democrats don't believe that it goes far enough.
While Murphy, who spearheaded the filibuster, wants to enact legislation that would require every person purchasing a gun, even at a gun show, to undergo a background check, Republicans are more likely to get behind a dueling proposal from someone in their own party. Iowa Republican Sen. Chuck Grassley introduced legislation that would beef up funds for the National Instant Criminal Background Check System as well as "make it more difficult to add mentally ill people to the background check database," USA Today reported.
The last mass shooting to elicit meaningful gun law change in Congress was the 2007 killing of 32 people at Virginia Tech University. After that, lawmakers voted to strengthen the background check system. But when a gunman murdered 20 first-graders and six adults in a Connecticut elementary school using a military-style assault rifle in 2012, the body made no changes to the way guns are bought and sold in the United States.
To highlight the importance of enacting change this time, though, Democratic presidential candidate Sen. Bernie Sanders will vote for the first time since January. "As the recent tragedy in Orlando has made crystal clear, we must ban the sale and distribution of assault weapons, end the gun show loophole and expand instant background checks," he said last week, according to USA Today.
It's clear that, as long as lawmakers do nothing, history will likely repeat itself, and the country will suffer through another Orlando, Sandy Hook, Charleston, San Bernardino, and Aurora. When elected officials vote Monday, they should have the victims of these shootings, and so many others, on their minds.