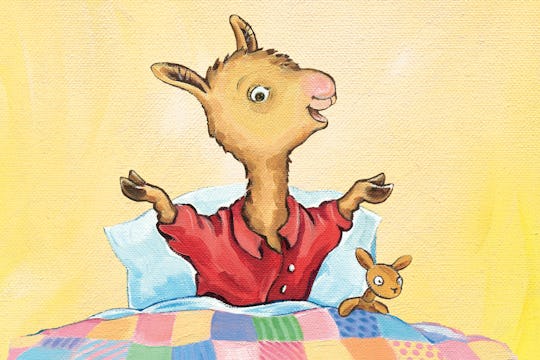 Netflix
The One Netflix Kids Show You & Your Family Don't Wanna Miss This Week
An all-new Netflix series was released and this one is for kids and adults. The new show, titled Llama Llama, is based on the popular and bestselling picture book series by author and illustrator Anna Dewdney. The animated series is just as cute as the books, which is why it's no surprise people are already wondering: will there be a Llama Llama Season 2?
Unfortunately, there's been no word yet on whether or not the series will be renewed, but it did just get released, so there's still plenty of time. Netflix will probably wait to see how the project does before deciding whether to continue on with it or not. So make sure to keep watching and tell your friends to watch too. They should just watch anyway, though, since it looks super cute and is definitely something kids would love.
The series was created by Oscar-winning director Rob Minkoff (The Lion King), director Saul Blinkoff (Doc McStuffins), showrunner Joe Purdy, art director Ruben Aquino (Frozen), and Emmy-winning producers Jane Startz and Andy Heyward. If that doesn't already impress you, Golden Globe winner Jennifer Garner also stars in the series as the voice of Mama Llama.
Similar to the book series, the show will tell "heart-warming tales about childhood moments and adventures, as well as the special connections between lead character Llama, his family, and best friends," according to Deadline. Llama and his mama will have the greatest bond because she acts as "his rock and safe haven as her son experiences growing up."
Of course, fans of the book series can also expect to see Llama wearing his now iconic "red pajamas" as well as Llama's friends from the books, including Euclid Sheep, Bill Goat, Nelly Gnu, and Luna Giraffe. While there will probably be less rhyming in the TV series than in the books, the level of fun will be just the same, so fans — old and new — of Llama's adventures can enjoy the show.
Sadly, Dewdney died before she had the chance to see her beloved books become a TV series. The bestselling author died on Sept. 3, 2016 after a 15-month battle with brain cancer. She was only 50 years old at the time. Her last picture book, Little Excavator, was published in June last year. According to Publisher's Weekly, before she passed she asked that in lieu of a funeral service people read to a child instead.
Although she isn't here to see it, it's nice to see her legacy continue on and her characters being introduced to a new generation of children. There's no doubt that the TV series will probably also bring new readers to the series of books that started it all.
Llama Llama joins a growing class of new TV shows based on popular children's books. Amazon Prime released the series If You Give a Mouse a Cookie last November, which is based on the popular book of the same name written by Laura Joffee Numeroff and illustrated by Felicia Bond. Netflix also released a Magic School Bus reboot last September, called The Magic School Bus Rides Again, which starred Kate McKinnon as Fiona Frizzle as well as Lily Tomlin reprising her role as the original Ms. Frizzle, who now goes by Professor Frizzle. Many may have forgotten but the original Magic School Bus cartoon was based on the popular book series of the same name by Joanna Cole and Bruce Degen.
This new trend is certainly a fun one for parents, who may have grown up with these books, and for kids, who may be introduced to these stories for the first time.
You can now watch the whole first season of Llama Llama now on Netflix.
Check out Romper's new video series, Romper's Doula Diaries:
Watch full episodes of Romper's Doula Diaries on Facebook Watch.