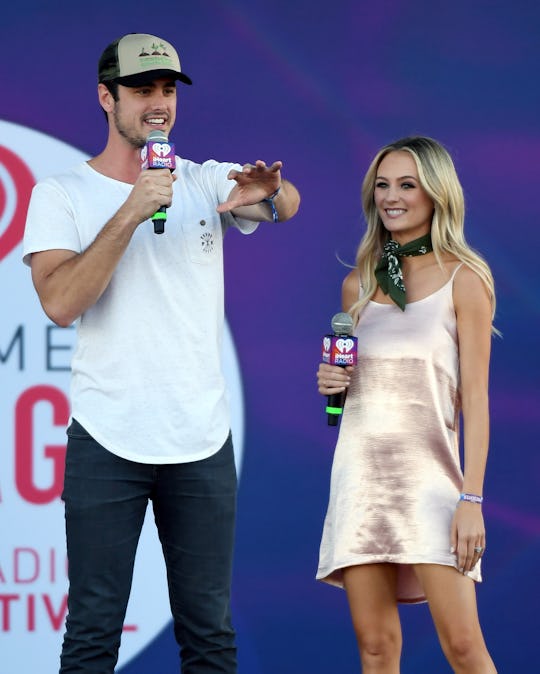 Ethan Miller/Getty Images Entertainment/Getty Images
Will There Be A Season 2 Of 'Ben & Lauren: Happily Ever After'? The Couple Seems Strained
Ben Higgins and Lauren Bushnell have the honor of being the first Bachelor couple to get their own spinoff show after Ben's season ended with an engagement. But there have been concerns about Freeform's Ben & Lauren: Happily Ever After? from the beginning. Would the couple be interesting enough to carry their own show? Would their recently called-off wedding spell doom for Ben and Lauren? And, after low ratings, would the show survive past its first season? So fans may be wondering, too: will there be a Season 2 of Ben & Lauren: Happily Ever After?
Freeform hasn't made an announcement about the show's fate one way or the other just yet, but here's what we do know. The show's ratings plummeted to a dismal 300,000 viewers by the end of its first season, however, it's still Freeform's highest rated reality show. So from a viewership standpoint, there are pros and cons. As for The Bachelor franchise's continued interest in the spinoff, it did try to back Ben and Lauren into a ratings corner by dangling a TV wedding in front of them. Putting pressure on the couple to get married in front of the cameras as a ratings stunt is pretty uncool, and, if you think about it, The Bachelor stands to enjoy stellar ratings for televising any alum wedding, regardless of the timeframe in which it happened. The Bachelor would benefit from a Ben and Lauren wedding as much as the couple would from having sponsored nuptials. So the urgency with which the show tried to shove that on them rings a little false.
As for Ben and Lauren, they seem to be feeling a little rocky since their relationship has been played out in front of cameras for basically the entire time they've been a couple. It isn't the most natural way to get to know someone, though it does rev up emotional vulnerability and thus, might speed up a relationship's progression, for better or worse. Toward the end of the first season, they actually called the wedding off, with Ben experiencing reservations about forging ahead with a huge ordeal before they really settled into the relationship. It caught Lauren, who seems to have been all-in from the beginning, by surprise, but the couple narrowly avoided splitting up.
It seems like Ben and Lauren may need some time off-camera to find their footing as a couple, which is totally understandable. But that may also mean a second season is out of the question.