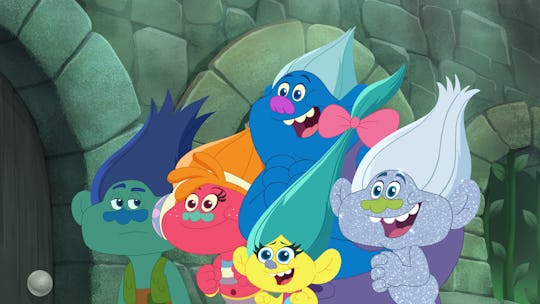 Netflix
Netflix's New 'Trolls' Series May Be Back, So Get Ready For More Hugs
When DreamWorks realizes they have animated gold on their hands, they typically run with it. If it's not several installments of Shrek, then it's the Netflix spin-off series of the Jim Parsons and Rihanna-helmed Home. And now, Trolls is getting a similar treatment with Trolls: The Beat Goes On. But since kids will power through the first season like we all do through multiples seasons of The Office, will there be a Season 2 of Trolls: The Beat Goes On? The Netflix Original has a lot of potential to go far, much like the other DreamWorks animated shows currently available for streaming on Netflix.
Although there hasn't yet been an official announcement about a second season, if the history of the other series are any indication, then Trolls: The Beat Goes On is sure to get at least a second installment after this. In 2016, Netflix released the cartoon series Home: Adventures with Tip & Oh and so far, its had three successful seasons and even a holiday special. There are even plans to have the 2017 movie Boss Baby branch out into his own animated series on Netflix, so I highly doubt that there would be this much money and effort put into these new cartoons without the hope of a long term plan. Save for a few select series, Netflix typically allows at least two seasons for most shows anyway, so a DreamWorks cartoon that's based off a hit movie is sure to get a second season. Right?
Trolls: The Beat Goes On will feature a more traditional cartoon style, but that definitely doesn't take away from the quality of the show, since it has the same lovable characters as the beloved franchise and picks up right where the film left off. That being said, the voices behind most of the characters have been replaced, which is also to be expected with a TV series that will require more time and attention as opposed to a recording for a one-off movie.
Instead of Anna Kendrick reprising her role as the voice behind Princess Poppy, Amanda Leighton will lend her voice to the role of the perpetually upbeat troll. Although she's done a handful of voice work in the past, you might also know her as the teenage Sophie from NBC's This Is Us or from her role on The Fosters. In place of Justin Timberlake as Branch is Pitch Perfect's Skylar Astin, but comedian and actor Ron Funches will reprise his role as Cooper, whom he previously voiced in both the Trolls movie and the Trolls Holiday special, which aired on NBC last November.
Although most of the original cast will not be back for the animated spin-off series of the Trolls movie, there's still sure to be plenty of the music the franchise has become known for. In fact, judging by the trailer alone, it definitely seems like it will have the same fun tone as both the movie and holiday special did.
Netflix hasn't announced an official Season 2, though its Wikipedia page curiously has a Season 2 premiere marked for March 9, 2018, however, I have yet to see a renewal confirmed anywhere else for the time being. But that could change at any moment. As long as the show is well-received (which I'm sure it will be), I wouldn't be surprised if another season will pop up on Netflix soon. Just try not to binge Season 1 all in one day, so you can savor all the Troll-tastic fun for as long as possible.
Check out Romper's new video series, Romper's Doula Diaries:
Watch full episodes of Romper's Doula Diaries on Facebook Watch.