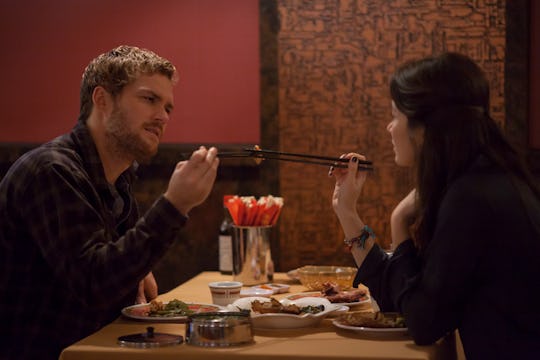 Linda Kallerus/Netflix
Here's What We Know About The Future Of 'Iron Fist' After Season 2
Netflix is slowly becoming the go-to place for some pretty epic Marvel TV shows that almost give the movies a run for their money. Since the core Marvel movies tend to focus on the Avengers and their immediate cohorts, the shows have expanded on the Marvelverse so much more, including 2017's Iron Fist. Although it opened to less than desirable critic reviews, the series was green-lit for a second season. But will there be a Season 3 of Iron Fist? Although there hasn't been an official announcement yet one way or the other, there's still plenty of time to see if Netflix will renew the superhero series to continue in line with the others that the streaming platform has continued to back.
Although there's no set rule about Netflix renewing new series for a second season, more often than not, new shows tend to get that second chance to shine. Even so, a lot of the time, when a Netflix series goes further downhill during its Season 2, Netflix may take that opportunity to cancel it altogether, lest it should overstay its welcome. Ahem, Hemlock Grove. When it comes to Marvel-centric shows, however, opinions can be more subjective than with a lot of other genres. There's the question of whether or not the show pays proper homage to the comic book character its based on. And there's always the off chance that the show doesn't live up to the hype.
Season 1 of Iron Fist specifically brought in reviews that made it seem like there wouldn't even be a Season 2. Shortly after Season 1 was released on Netflix in March 2017, The Ringer wrote, "Iron Fist is bad. It's an action series about a martial arts expert that leans on set-piece fights of comically poor quality. I can't stress this enough. The fighting in Iron Fist is awful, like Captain Kirk–fighting-a-lizard-alien-level terrible, though it gets better as the series progresses. The writing — the plotting and dialogue — is unimaginative at best and thinky-face-emoji problematic at worst."
And the poor critic reviews didn't stop there. After Season 1 premiered, The Sydney Morning Herald referred to Iron Fist as "A relatively drab patch in that endless Marvel tapestry." But outside of the mostly abysmal critic reviews of Iron Fist's inaugural season, there were plenty of fans who saw the potential. And although the show currently has a critic score of 19 percent on Rotten Tomatoes, it also has an audience score of 75 percent. So if Season 2 sees a similar audience reaction, then there's a good chance that Iron Fist will be renewed for Season 3.
Iron Fist followed in line with a handful of other Netflix Original Marvel series. It came fourth after Netflix's Luke Cage, Jessica Jones, and Daredevil. Just like how the characters in different Marvel movies are part of the same contained universe, so are the characters in the different series. So it's not inconceivable to think that there's room for plenty of future crossover episodes, especially since the shows are all on Netflix.
Since the other Marvel shows still seem to be going strong, then it would make sense for the streaming service to continue Iron Fist with a third season. It may be telling that Season 2 was bumped down to 10 episodes rather than the 13 from Season 1, but there's still time for the show to be renewed once more. It's still unclear if there will be a Season 3 of Iron Fist or not, but there's plenty of potential there and, clearly, enough audience approval to hopefully keep interest alive in the series.