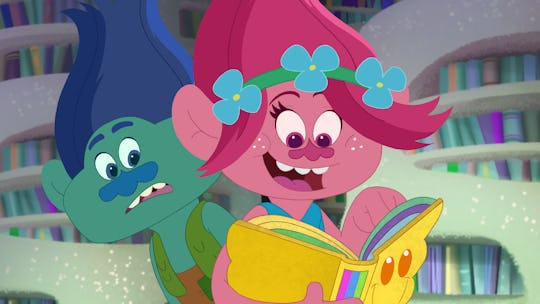 Netflix
There May Be Even More Episodes Of 'Trolls: The Beat Goes On' In The Near Future
The only thing better than multiple movies in the Trolls franchise is a regular animated series dedicated to the characters we've all come to know and love. OK, so maybe that's only true for parents who haven't been forced to watch the movie over and over, but as far as kids' movies go, it's legitimately entertaining. Naturally, it makes you wonder about the Dreamworks animated series, which just released a new batch of Season 2 episodes on Netflix. But will there be a Season 3 of Trolls: The Beat Goes On?
Although Netflix is well known for keeping their viewership numbers private, it's not all that difficult to see the success of the spinoff cartoon series. The first season premiered in January 2018 with six episodes and Season 2 soon followed with a release date of March 9 with a batch of seven more additional installments. I don't think that Netflix would release the seasons so close together if the inaugural season wasn't a big success with viewers on the streaming platform.
There hasn't been an official announcement yet about a Season 3 of Trolls: The Beat Goes On, but at the same time, there hasn't been word on the second season being its last. And since a Trolls sequel movie is set to be premiere in 2020, it's possible that Dreamworks executives will want to continue with the series to keep interest in the franchise as a whole.
Back in December 2017, Variety reported that DreamWorks executives had announced a deal to release six new animated series in partnership with Netflix over the course of 2018, beginning with the Trolls series. At the time, there was no guarantee about the number of seasons any of the shows would get, but as it's part of a multi-show deal between the streaming service and the production company, I don't see it being short-lived.
The animated series may not have the same voices behind Branch and Poppy, who are more adorable than ever, but with Skylar Astin as one of the starring voices that's also recognizable from his role in Pitch Perfect, fans both young and old can enjoy the cartoon. And, Astin told KidzWorld.com ahead of the show's premiere, "There are some references that people who are under the age of twenty actually probably don't understand. There's a Braveheart reference and other film references that they'll laugh at anyways because it's silly." So when you consider that parents can enjoy it along with their kids with that adult humor thrown in there, you've got an animated series that can potentially stand the test of time, meaning more than just two short seasons.
In the past, there have been many other animated series that were given a chance to shine through more than just two seasons on Netflix, and since both Seasons 1 and 2 of the Trolls cartoon were short, it's hard to imagine that the show won't be given a chance to continue with more episodes. Spirit Riding Free, which is another DreamWorks animated series produced in partnership with Netflix, is about to premiere its fourth season on March 16 and DreamWorks' Trollhunters was also recently renewed for a third season.
Even though Season 3 of Trolls: The Beat Goes On hasn't been confirmed just yet, due to the original movie's success and the continued love of the characters by audiences everywhere, odds are fans can see a renewal at some point in the near future. Until then, there are about to be two seasons of the show to catch up on or just rewatch since kids have an adorable knack for watching the same content over and over.
Check out Romper's new video series, Romper's Doula Diaries:
Watch full episodes of Romper's Doula Diaries on Facebook Watch.