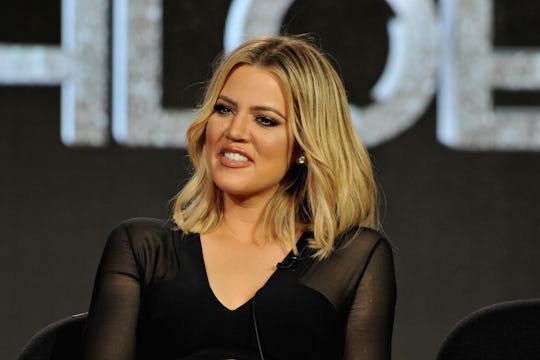 Jerod Harris/Getty Images Entertainment/Getty Images
A Spinoff Show Based On Khloe Kardashian's Pregnancy *Might* Be In The Works
When news broke last week that everyone's favorite Aunt Koko, Khloé Kardashian, is reportedly pregnant with her first kid, fans went wild. They also — because Twitter can be a rough place — made jokes about whether or not this was a business decision. Like, will there be a spinoff show based on Khloé Kardashian's reported pregnancy? Or was this all a PR stunt? Honestly, it's hard to tell where the personal and professional sectors start and stop with them sometimes.
Romper has reached out to the reality star's representative for comment on her reported pregnancy, but has not heard back at this time.
According to Radar Online, a source close to Khloé's mom, Kris Jenner, said that she's thinking about a spinoff show already. "Kris is really pushing for Khloé to do a Keeping Up with the Kardashians spinoff to document her pregnancy," the source told Radar Online. The source added, "She told Khloé that she would even be willing to film it in Cleveland, since that is where she spends most of her time." (Khloé's boyfriend, who is said to be the father of her baby, Tristan Thompson plays for the Cleveland Cavaliers and lives in Ohio.)
This source added that Kris is "though the roof" right now planning her family's future. There is also news that Kylie Jenner is allegedly pregnant, according to Glamour, something this source says is another situation Kris is trying to monetize. (Romper has reached out to Jenner's representative for comment as well, but has not heard back at this time.)
But is she really though? Fans and "sources" might be getting ahead of themselves.
The momager recently told Variety that the family was taking a breather for now. She said last week: "We're just really enjoying the success of Life of Kylie, so that's kind of where we are at right now and just enjoying that for a second. But that's kind of how it works. We don't do a spinoff every single season, so we'll see. There's always a spinoff."
So, in general, there's not anything in the works if you listen to Kris's actual words. In the same interview, she nixed the idea of any shows concerning her grandchildren or these alleged pregnancies. The manager and matriarch told Variety of putting the tiniest Kardashians on TV just yet:
I think that's kind of pushing the envelope. I think it's a little too early to start thinking about them. They're amazing and when they're around they are in the show but I think it's a little too early for them to have any kind of spinoff.
However, she was quick to note in the same Variety interview that all of her daughters were likely too busy to do spinoffs at the moment. Kendall Jenner has her modeling career, Kim Kardashian and husband Kanye West are busy with their own projects, Rob Kardashian's own spinoff is on hold, and Kourtney Kardashian, she told the outlet, might be open to one of her own in the near future.
But she didn't mention Khloé specifically. Whether that's because something is in the works or she just knows that Khloé has enough going on with her fashion line Good American and Revenge Body remains to be seen. Very, very mysterious, huh?
Remember, though: The only pregnancy that's been confirmed by the family is Kim and Kanye's surrogate. Khloé and Kylie haven't responded to any of the reports about their pregnancies and Romper's request for comment from the family were not returned.
Maybe, before fans start planning spinoff shows and makeup lines for Khloé and Kylie's possible children, they should wait for confirmation from their reps that this is all actually real. Right?
If they are pregnant, though, it would be crazy news for the family. Three new grandkids all around the same time? That's mayhem. Even if they don't do a proper spinoff about Khloé, viewers would likely get to watch the babies grow up on KUWTK anyway. Though knowing and loving Khloé like I do (from watching her on TV and stalking her Instagram account, of course), a spinoff show just documenting her pregnancy and all the discomforts would be pretty awesome and hilarious. Maybe these anonymous sources are onto something.
Watch Romper's new video series, Romper's Doula Diaries:
Check out the entire Romper's Doula Diaries series and other videos on Facebook and the Bustle app across Apple TV, Roku, and Amazon Fire TV.