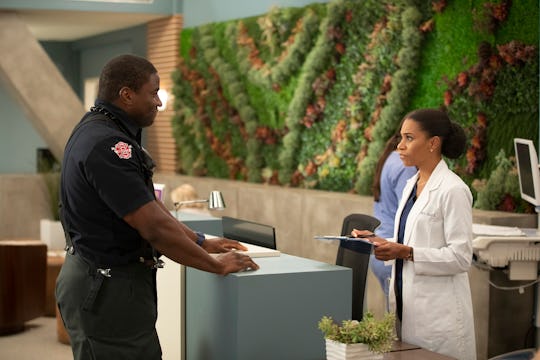 Rick Rowell/ABC
There Could Be More 'Grey's Anatomy' Crossovers With 'Station 19' In The Future
Station 19 first introduced some of its characters on Grey's Anatomy before the show officially premiered, and now the firefighter drama has returned for a second season this fall. There's already been one crossover to open Season 2, but will there be more Grey's Anatomy crossovers with Station 19 this season? Each of the crossovers that fans have seen so far have been organic enough to not feel forced or hard to believe. This opens the door for as many crossovers as needed, being that Ben, Bailey's husband, has been a regular on both shows which both take place in Seattle.
It also helps that Station 19 airs right after Grey's every Thursday, so combining some storylines might make sense in future episodes of either show. Every week, Grey's fans already get a peek into the Station 19 world by way of Ben or of Bailey talking about Ben's work as a rookie firefighter. Jason George, who plays Ben, said at the ATX Television Festival in June that they've "barely scratched the surface of Grey's world interacting with the Station 19 world and vice versa" and that it's "just getting started" with intersecting the characters and storylines. At the festival, Station 19 creator Stacy McKee agreed that more crossovers will "definitely" be happening.
Back in March when Station 19 premiered, McKee spoke to Deadline about crossovers between Station 19 and Grey's and how fans could see more of that play out in the future. McKee explained that it's important to her for characters from each show to appear on both from time to time, provided that it's necessary for the respective plots. "Ben Warren is still appearing on Grey's Anatomy, and there's some characters coming over from Grey's," she said at the time.
Bailey, Maggie, and Meredith have already appeared on Station 19 and a handful of the firefighters have crossed over to Grey's at different times. Depending on the storyline, the next doctor to cross over into Station 19 could really be anyone. But I wouldn't count out seeing Maggie on the show again. During the Station 19 crossover at the beginning of the season, Dean asked her out. With Jackson M.I.A., she didn't exactly say no. She didn't say yes either, but it left the door open for her to wonder about a potential romance with someone else.
If nothing comes out of it but a date or two, it would still be great fan service to allow Dean and Maggie to see each other in another crossover episode or two this season. And as it stands, it seems like the Station 19 creator is into the idea of more crossovers, as long as it makes sense for future storylines.
As long as both shows exist in the same universe and in the TV world of Seattle, there's no reason to think there won't be more crossover episodes in the future. In the past, other shows in the TGIT lineup have had success with occasional crossovers. Scandal crossed over with How to Get Away with Murder for an epic storyline last season and it didn't feel forced or contrived.
If Grey's and Station 19 can continue to have believable (for the most part) intersecting storylines, then I can definitely see more crossovers later this season. Especially if they're in the form of monumental cliffhangers that both shows have become known for.