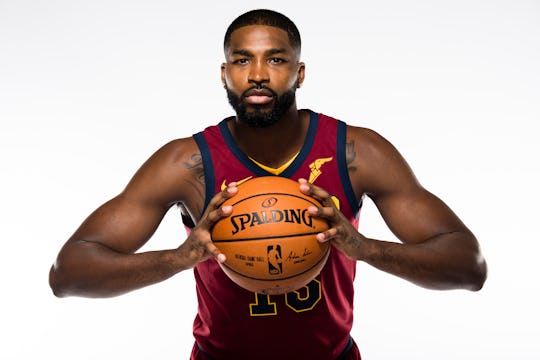 Jason Miller/Getty Images Sport/Getty Images
Here's Why Tristan Thompson *Could* Be The Kardashian Christmas Card
In case you haven't heard, Khloé Kardashian officially announced her long-rumored pregnancy on Wednesday. The big reveal that she and her boyfriend, Tristan Thompson, are expecting their first child together came in the form of a simple Instagram post showcasing her bump — though not as part of the nearly monthlong social media rollout of the family Christmas card, as some fans had predicted. Still, now that fans know for a fact that the Cleveland Cavaliers star is about to become the father of a Kardashian, it's urgent to ask: Will Tristan Thompson be in the Kardashian Christmas card? After all, there are four day left until Christmas, which means that Kardashian's sister, Kim Kardashian, will share four more snaps of the KarJenner fam on her website, app, and social media accounts — plenty of time for Thompson to make his (possible) debut.
Reports that Kardashian was pregnant began to surface in earnest at the end of September, but she was tight-lipped about whether or not they were true until the big announcement on Wednesday. "I know we've been keeping this quiet but we wanted to enjoy this between our family and close friends as long as we could privately," Kardashian wrote as part of the Instagram post's caption. And this acknowledgement makes me think that there is definitely a strong chance that Thompson could make an appearance on the card.
The strongest indication that Thompson has a shot of being in one of the pics that make up the the Kardashian's "25 Days of Christmas" theme for this year's card, in my opinion, is the fact that Kanye West is all over the snaps. Even though Kim shared in an interview onThe Late Late Show in November that 2017's card would feature women and children exclusively, West is there.
Thursday, for example, marked the fourth time he was included in a Christmas card photo, all of which so far have shown various members of the KarJenner clan rockin' white tops and light wash jeans. In this photo, "DAY 21," West poses with Kim and their two young children: daughter North, 4, and Saint, 2.
As far as I can tell, the only explanation for West's inclusion in the photo shoot is that he is a bonafide part of the family, despite being neither a woman nor a child. Honestly, men are pretty few and far between in the family. Kourtney Kardashian, for example is no longer with the father of her three kids, Scott Disick, so they graced the Christmas card without him. Travis Scott, the father of Kylie Jenner's rumored baby-to-be, is obviously out for now because the couple has not confirmed the pregnancy rumors. (The women's brother, Rob, has been absent from the card so far.) So, it seems to me that West is in the family pics because the family pics would be incomplete without him.
Now that Thompson — whose relationship with Khloé Kardashian first went public in September 2016 — is going to be the dad of a Kardashian, does he get a spot? It's true that the two aren't married yet, but they're together and, it seems, very much in love. I don't really see the Kardashians as a family to exclude someone just because they're not married into the family yet.
That being said, all of these photos now being released to the public were taken in November, before Kardashian publicized her pregnancy. Theoretically, it could have gone on without Thompson based on the fact that, at that time, they were still trying to keep the pregnancy under wraps. In order to know for sure, fans will just have to keep checking back for the next "25 Days of Christmas" update.
Check out Romper's new video series, Romper's Doula Diaries:
Watch full episodes of Romper's Doula Diaries on Facebook Watch.