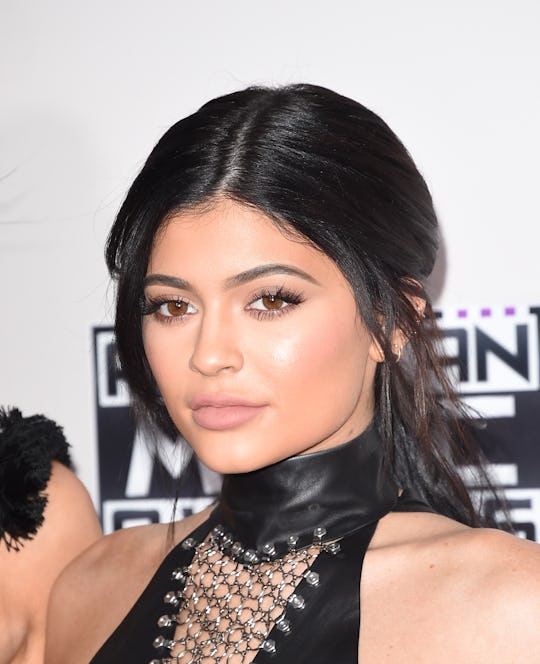 Jason Merritt/TERM/Getty Images Entertainment/Getty Images
Kylie Won't Reveal Her Rumored Pregnancy Like Khloé Did — But Here's How She Could
It was a busy week for everyone on Kardashian-Jenner Baby Watch 2017. First, fans tuned into the Keeping Up With The Kardashians mid-season finale on Sunday expecting a pregnancy reveal and getting none. Then, more Christmas card pics were revealed with no pregnancy bumps. And then on Wednesday, Khloé finally confirmed all those pregnancy rumors with an Instagram post, sending social media into a total frenzy about when and how Kylie Jenner will reveal her own rumored pregnancy.
As much I hate to say it, all of us really should really should chill a minute and let Khloé soak up the love and let Kylie be, since neither woman owes their fans any confirmation or news at all. But the fact that Kylie hasn't confirmed or denied her rumored pregnancy yet is telling and really highlights the differences between the two women and their relationships.
For those totally obsessed with the family, it made sense that the two women have kept (and may be keeping) their pregnancies private for so long, since each sister tends to really keep their relationships— and relationship milestones — as private as possible until they're ready to talk about it in front of the cameras. Because when you're a Kardashian or a Jenner, it's always about the cameras, just by default.
So when Kylie decides that she's ready to confirm or deny the pregnancy rumors, it will likely be very, very different than how her big sis chose to do it. Here are a few possible ways she'll reveal the pregnancy.
A Low-Key Appearance In The Christmas Card
Kylie has been missing in action on social media these days, posting namely old throwback pics of herself and promos for her makeup business. And she hasn't shown up in the Christmas "card," pictures from a family photo shoot that the Kardashian sisters are posting to social media each day, which has led some people to speculate that Kylie will show up in the last few days, pregnant as can be.
That being said, the rumors speculate that Kylie is just as far along as her sister, which is allegedly somewhere around five to six months right now. In the Christmas card, Khloé doesn't appear to have a bump, so Kylie might not "look it" either. But, Kylie (or one of her sisters) could drop the news into a caption, heralding in the new year or something.
Or Another Low-Key Appearance On Social Media
So, here's the thing: Kylie hasn't been posting a ton on social media, but she and Travis Scott, who is allegedly the father of the rumored baby, also don't post a lot of pics of together. Actually, they don't post pics of or with each other at all since they reportedly started dating last April. In addition to that, the two haven't been spotted together in public by paparazzi since the rumors came out. According to BET, Travis has been hitting the club scene all by his lonesome, too. But what do we really know about their private lives? Zilch. And we definitely don't know whether she and the rapper are actually together, or if they're even having a baby.
When Kylie announces her rumored pregnancy, if at all, it probably won't be with some mushy, romantic post like Koko's. For one, it's never been her style, since she's kind of the edgier sister. Also, it seems like she's in an entirely different kind of relationship, at least publicly, from what fans can see.
Khloé has been just *gushing* about her and Tristan Thompson's courtship and future together ever since she confirmed their relationship on Keeping Up With The Kardashians. She and Thompson seemingly sort of, kind of, maybe planned this out, whereas if Kylie's as far along as the anonymous sources say, she conceived just two or three months after they started dating, which could theoretically been a bit of a shocker.
The couple might not have worked out all the exact details how they're going to do this whole family thing yet, whereas Khloé's had more experience in that department.
Or... She'll Wait To Do It On The Show
Given that she and Scott are keeping things on the low, and the family didn't confirm or deny the rumors yet on Season 14 of KUWTK, it's possible she'll wait until the show returns in 2018. A lot of fans speculated that the fam would do it during the mid-season finale, but it didn't happen.
The episode on Jan. 7 is called "Unexpected News," so now that Khloé's news is out, it's very possible that the "unexpected" part is a dramatic reenactment of the family hearing her news and maybe also a confirmation that Kylie is or is not pregnant along with it. TBH, if I had to throw money down on when and how she addresses the rumors, I'd go with the winter premiere theory.
However, the way that all of us baby news watchers think Kylie will address the rumors is probably wrong though. The 20-year-old probably has some other epic way up her sleeve. Let's all just hope she doesn't wait until the alleged baby actually arrives, because that would be straight torture.
Check out Romper's new video series, Romper's Doula Diaries:
Watch full episodes of Romper's Doula Diaries on Facebook Watch.