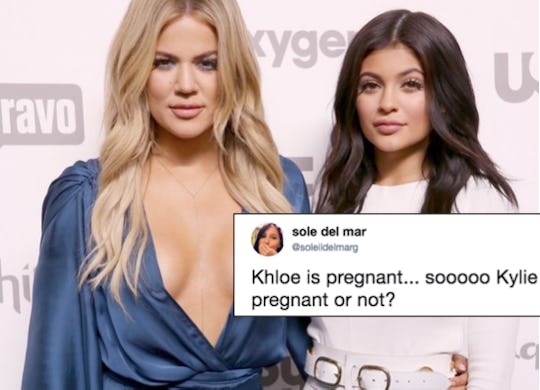 Robin Marchant/Getty Images Entertainment/Getty Images, @soleildelmarg/ Twitter
This Is The Wrong Response To Khloé Kardashian's Pregnancy Reveal
Keeping Up With The Kardashians fans can rest easy tonight, since Khloé has finally confirmed her pregnancy in the most perfect way, with a bare baby bump shot and a sweet AF message to her family, boyfriend Tristan Thompson, and her fans. However, because we cannot ever have nice things, there are a lot of wrong responses to Khloé Kardashian's pregnancy reveal and that is to be laser focused on Kylie coming out with her own announcement. Seriously, can we let these women live their lives?
Just in case you've been in the wilderness and without working internet for the past four months, the rumors that Khloé was pregnant came out in late September, within days of rumors about her 20-year-old sister Kylie being pregnant, too.
The family has been avoiding confirming or denying the news on behalf of both women and fans have been so obsessed with tracking their social media accounts that there are tons of people who were just about to give up on the idea that either sister was pregnant at all. Present company included.
Khloé's announcement makes total sense. In her caption, she wrote that she and her boyfriend wanted to keep things on the DL for as long as possible to just enjoy the moment for a minute before the entire world got a chance to chime in and hijack their news. The Kardashian and Jenner sisters are so public that that makes total sense.
People are just not having it on social media though. It's like we can't just stop and be really happy for Khloé (and fans should be, knowing how long Khloé has talked about becoming a mom for years and years on KUTWK) for two and half minutes before insisting that Kylie posts a Snapchat video confirming or denying her own news. Let Khloé have her moment! This isn't some sort of race or competition between sisters. It's one woman making the decision that she's ready to share her pregnancy with the world (and the paparazzi).
There are a few reasons why that's actually not just annoying, but really dangerous. For one, we don't know that Kylie, who was rumored to be four months along in September, planned or wanted her pregnancy. People wait all the time to announce their pregnancies out of fear that there could be complications early on, so it's not like she's doing anything that millions of other women get to do in the privacy of their own lives.
Think about how awful it could be for Kylie to not even be pregnant for whatever reason and have to read all of the ridiculous comments on social media about the state of her uterus. As much as the Kardashian and Jenner women seem removed from *normal* life, they're just human beings with a TV show and multiple businesses.
Obviously People Aren't Thinking About That.
Obviously, I love the Kardashian and Jenner women perhaps too much, because just like Momager Kris, I cannot help but worry about Kylie's anxiety these days. Seriously — Kendall and Kylie (and all the sisters really, besides Khloé,maybe) are so anxious and shy! Which is ironic given their career choices. Go ahead and judge them, but it's real, and a lot of it is our fault (or the people who obsess over their every move).
But remember: Kim can't dance, Kendall has so much anxiety she has sleep paralysis, and Kylie once got a prosthetic face just to go out in public and feel what it was like to order a Subway sandwich without press following her. I remind you of this just because I feel like the pressure to confirm or deny the pregnancy rumors must be killing Kylie.
She once told Complex:
I never went out. If I tried to go to the movies or something, I would stop breathing in the middle and just cry. I felt super trapped, like everybody was watching me. I felt like everyone was hating on me.
Remember that Khloé is 33 years old and Kylie is just 20 years old. Even with a support system and wanting a child, 20 years old can feel really young to take on the responsibility of being a mom.
And being a mom on literally the cover of every magazine and website out there, with people tearing her apart at every turn. People do that to Kylie, and all of her sisters, on a good day. What makes anyone think people will be kind to them while going through their pregnancies or learning how to swaddle their infant on the way into Health Nut in Calabasas?
Khloé was obviously ready to share her pregnancy news and own it. Obviously, Kylie isn't ready to let us all know one way or the other. Which is perfect, since she doesn't owe every human being on social media anything at all. Turning it into some sort of competition between the sisters is a terrible thing to do. Process and enjoy Khloé's news first and let Kylie live her life.
Check out Romper's new video series, Romper's Doula Diaries:
Watch full episodes of Romper's Doula Diaries on Facebook Watch.