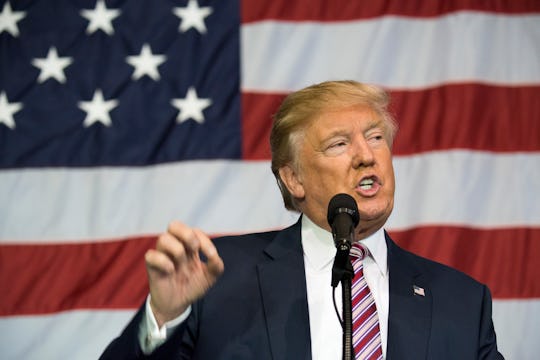 Ty Wright/Getty Images News/Getty Images
Will Trump's Comments About Women Hurt Him As Much As The Media Says? Women Are Concerned
With every revelation of Donald Trump uttering yet another lewd comment or engaging in a demeaning conversation about women, much of the United States grows more and more stunned by the Republican candidate's alleged conduct. In the wake of these revelations — including a 2005 Access Hollywood tape, in which Trump can be heard talking about how he would use his fame to allegedly grope women — many prominent Republican figures have renounced their party's presidential nominee and have called for him to drop out of the race altogether. Trump, for his part, has refused, saying he will "never" quit the race. The Trump campaign has surely been shaken, but will Trump's comments about women hurt him as much as the media says? A recent non-scientific survey conducted by Romper shows that many women are indeed bothered by the GOP nominee's abhorrent remarks — but the percentage of women unfazed by the comments is equally as surprising.
It's hard for both men and women to believe Trump when he says "nobody has more respect for women than I do," when just moments later he calls his opponent, Hillary Clinton, "such a nasty woman," — like he did at the final presidential debate on Wednesday night. He's also labeled the women he's had sex with as his "victims" and used words like "dogs," "slobs," and "fat pigs" to insult other women's appearances.
Trump's public statements may indicate one thing, but his actions and sexist behavior suggest something much different. And with Election Day just weeks away, this conduct has not gone unnoticed among women voters.
A recent survey of millennial moms' opinions on the 2016 presidential election, conducted by Romper through Survey Monkey, found that more than half of the participants (53.6 percent) were bothered and thought Trump's comments about women were terrible and would not be voting for the Republican candidate.
Conversely, 17.1 percent said that they were not bothered by the comments and would still vote for Trump. Around 15.5 percent said the comments bothered them but that they would cast their ballot for the Republican nominee anyway, and 13.7 percent said they were unaware of Trump's comments about women.
The survey, conducted between Oct. 10-11, asked women a total of 15 questions, asking participants for the opinions on which women's issues were most important to them, their biggest worry about the election, and which issue surrounding either presidential candidate was the most concerning for them.
The non-scientific, nationwide survey included a sampling of nearly 600 women between the ages of 18-54 years old, who were either pregnant or had children between the ages of 0-18 years old.
With 23.1 percent, Trump's comments about women was a leading concern and nearly 21 percent were concerned about Clinton's use of a private email server during her tenure as Secretary of State. But, the biggest concern was that most women felt they didn't have confidence in either candidate.
As the survey shows, some female Trump supporters were unfazed by the misogynistic and vulgar comments made by the candidate. So while analysts believe Trump has and will continue to take a hit in the polls following his lackluster and demeaning debate performances — during which he alienated female viewers with his derogatory comments — the survey response shows that, come Election Day, some women may still put their concerns aside and vote Trump regardless.
Respondents surveyed were profiled on different attributes and incentivized through a number of methods, according to a SurveyMonkey spokesman. "We incentivize respondents through a couple different methods: one is by giving donations to a charity of their choice, another is through gaming/prize points, and a few through cash/gift card incentives," the spokesman explains. "The respondents are routed to your surveys via email invites, logging into a survey taking platform, and/or clicking into the survey from an external website or mobile game."