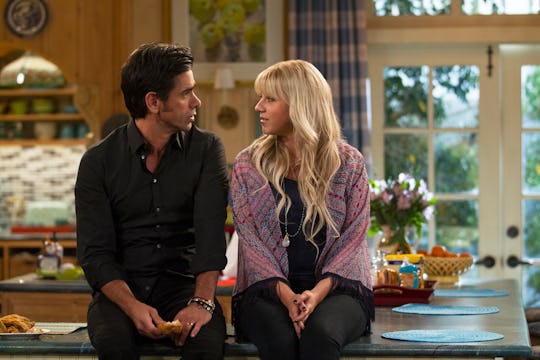 Saeed Adyani/Netflix
Will Uncle Jesse Be In 'Fuller House' Season 2? John Stamos Had A Busy Schedule
The best news that any fan could hope for when considering Season 2 of Fuller House would be that all of the original cast members could return once again. Viewers got pretty lucky with all of the cameos in the first season, so now they've come to almost expect the patriarchs of the Tanner household to make several appearances per season. But will that be the case? Is there a distinct possibility that Uncle Jesse will be in Fuller House Season 2? John Stamos is still everybody's favorite cool uncle with the best hair (thanks to Mr. Goodpart) and I'm pleased to say that he will definitely be coming back for three whole episodes.
In the latest promo for Season 2, you can see him, along with the rest of the Tanner/Fuller/Gibbler gang during Christmas and New Years, so at the very least, fans can expect some Uncle Jesse sightings for a few of the holiday episodes that the season will cover. And, apparently, it's going to cover every major holiday through the fall and winter months throughout the course of Season 2.
Stamos told E! Online that for Season 2 of Fuller House, he'll be "acting in three episodes, producing them all." But with Stamos's busy schedule, which also includes shooting Season 2 of FOX's Scream Queens (likely around the time he was filming for Fuller House), it's understandable that viewers won't get quite as much Uncle Jesse time as they would like. But I think we can all agree that some Uncle Jesse is certainly better than no Uncle Jesse at all, right?
Season 1 of Fuller House set things up for the cast, bringing in healthy doses of guest stars in the form of Stamos, Bob Saget, Dave Coulier, and Lori Loughlin, who were all integral to the original series. Judging by the trailer for Season 2, there will be more drop-ins and organically placed guest stars, but that house can only hold so many people. At some point, it's got to be OK for Uncle Jesse to show up maybe a couple of times per season. That grin and those apparently never fading good looks are enough to tide fans over even if he only appears briefly.
Despite not getting all of the former cast to return (I'm looking at you, Olsen twins), Fuller House has done well enough to not need any new additions other than, say, the guest stars that the Season 2 trailer promises and, of course, the family drop-ins that will bring the feels and nostalgia. And getting Uncle Jesse at all is enough to make fans mutter a "Have mercy" in his honor.