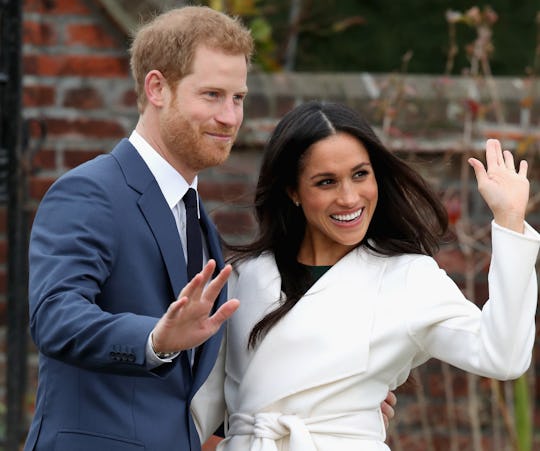 Chris Jackson/Getty Images Entertainment/Getty Images
You Won't Want To Miss This TLC Special About Prince Harry & Meghan Markle
In a perfect world, everything you could ever want or need to watch would be on Netflix exactly when you needed it. But with more than one streaming platform available, that's not exactly how things are. Sure, there are plenty of TV shows and movies you can regularly stream from Netflix, but will When Harry Met Meghan: A Royal Engagement be on Netflix too? The TLC special is one you won't want to miss, but as it turns out, TLC seems to have an exclusive deal with Hulu instead of Netflix.
While Netflix has played a big role in leading many TV watchers to finally cut the cord, or get rid of cable, Hulu does offer something that Netflix doesn't currently provide to users in the United States, which is the addition of new episodes of TV shows on a regular basis. Where Netflix might add multiple seasons of a particular TV show to its roster, Hulu also has the advantage of adding the newest episodes for faster viewing, depending on which show it is.
And although it's unclear what the terms of the deal might be, it looks like TLC is devoted to offering its content to Hulu right now. That being said, there's still the chance that When Harry Met Meghan could be on Hulu instead, which would mean it could arrive to the streaming service soon after it airs on TLC this Tuesday, Dec. 12 at 9 p.m. EST.
Back in 2014, Discovery signed a deal with Hulu granting the streaming platform the rights to stream the channel's shows on demand, as well as those of the networks below Discovery, which includes TLC, as Discovery Communications is its parent company. TLC is still not included in any of Hulu's live TV plans, but there are still episodes of popular TLC shows available to stream, making it possible for Hulu to eventually offer When Harry Met Meghan. Though when it would become available isn't known at this time.
Thanks to the obsession with the British royal family that people all around the world seem to have, TLC put together the perfect documentary special to give even more insight into the newest royal couple, Prince Harry and American actress Meghan Markle. According to the press release about the TV special, viewers can expect the one-hour feature to focus on "the couple's first few outings together, how the media reacted to their romance, and the swirl of rumors around the couple's engagement."
Even if you happen to watch it live on TLC, the fascination with Prince Harry and Markle certainly doesn't end when the credits start rolling. Unlike every other Hallmark Christmas movie about an American falling for and marrying a royal, this is real life and since you'll want to rewatch When Harry Met Meghan, naturally the next step is to turn to your favorite streaming platform. But since it's highly unlikely that Netflix will have the hour-long documentary, Hulu will be your best bet after checking TLC's website itself for a way to stream the special after it has aired.
As anyone who was glued to their TV for Kate Middleton and Prince William's 2011 wedding will tell you, though, you probably won't want to miss any part of the TV special and documentaries leading up to the next big royal wedding. And since When Harry Met Meghan is one of the first specials about the soon-to-be-wed couple, you also don't want to miss that. But if you don't have Hulu, then you're probably going to have to rely on finding it online or on-air again at some point over the weekend following its premiere.
Check out Romper's new video series, Romper's Doula Diaries:
Watch full episodes of Romper's Doula Diaries on Facebook Watch.