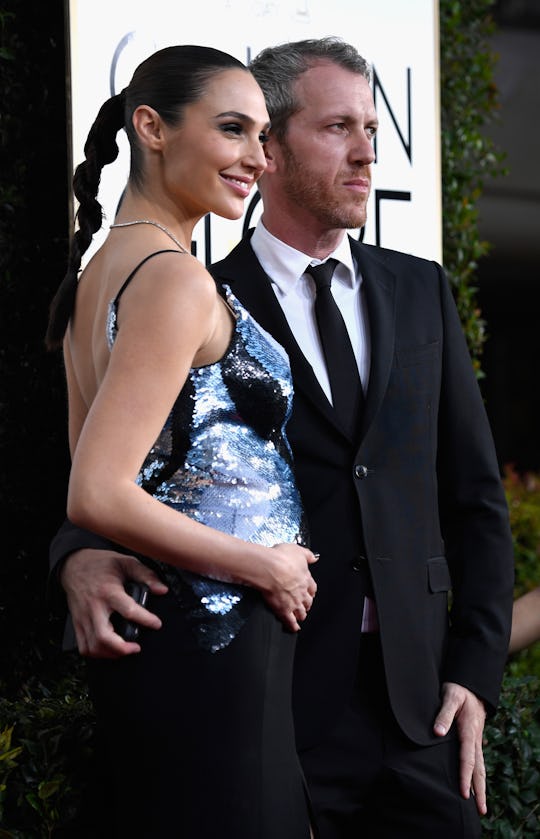 Frazer Harrison/Getty Images Entertainment/Getty Images
Yaron Versano's Quotes About Gal Gadot Are Adorable
It can't be easy to stay grounded amidst all of the hype surrounding the release of Wonder Woman, which is why it's good to know that Gal Gadot has a strong support system around her. Gadot has been married to her husband, Yaron Versano, for 11 years and by all accounts they are total relationship goals. Scrolling through Yaron Versano's quotes about Gal Gadot, especially in the wake of her major success, it's hard not to conclude that they are absolute relationship goals.
The couple seems meant to be. Versano, an Israeli hotelier who is about 10 years older than his wife, met Gadot at a party in the desert. Gadot told Glamour, "He told me on our second date he was serious and wasn't going to wait more than two years to ask me to marry him. Fast-forward two years; he proposed." The couple now has two children together, 6-year-old Alma and 2-month-old Maya, and they still seem to be madly in love. Recently, Versano was spotted wearing a t-shirt bragging about his wife's superhero status, so he's obviously crazy about his wife's success.
Undying affection and admiration — it's the stuff Amazonian warriors dream of, right? Being that he's a businessman, he doesn't make the rounds in the press very often, but that doesn't mean he doesn't talk about his wife in other ways.
Here are some of Versano's feelings about his partner, as told through Instagram captions.
Throwback Love
Taken a year before they married, this pic shows it was love at first sight. He wrote that this was taken in 2007, and added a heart emoji say that Gadot is the love of his life.
Total Dedication
It looks like Versano and Gadot are both enjoying her newfound fame. He captioned this picture, "Where ever you'll go I will follow." Sweet, right?
He Gets Sappy, Too
Time has nothing on true love. For their anniversary, he wrote, "10 years have gone by, yet it feels like yesterday we first met... My heart will forever beat to the sound of our love."
Hashtag Blessed
Having someone to enjoy this Wonder Woman ride with has to feel good. He captioned this selfie simply, "Times Square #wonderwoman #mywife #blessed," showing off his Wonder Woman-pride.
Family Is His Happy Place
He's an old school family man. This one he just added a hashtag saying, "Family is everything."
Versano doesn't just talk about his wife, he's been integral in helping her succeed. Gadot said that it was Versano who pushed her to work after having her first child. She said:
When Alma was around two, I was really anxious about how to travel with a child, moving her from one country to the other, all the different languages. It was my husband who told me: "Gal, think about what kind of a role model you want to be. If you want to show Alma that she can follow her dreams, that's what you should do, and we will figure out the logistics.
Now that's the response of a truly feminist husband. Versano apparently knew all along that not he not only loved Gadot, but wanted her to be everything she could possibly be. Find you a partner who can do both.