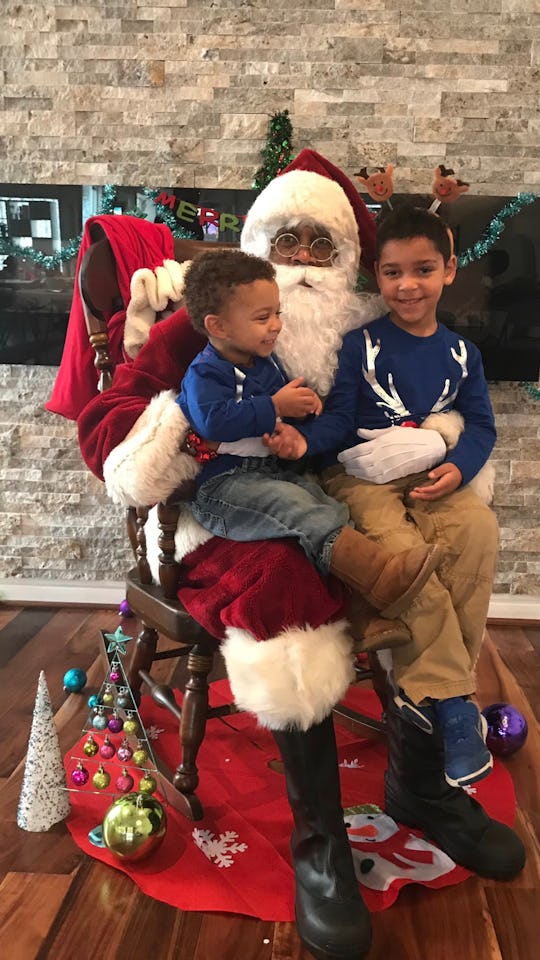 Marlow and Patton Manion, Pittsburgh, Pennsylvania. Photo courtesy of Kara Manion.
Yes, We Need Diverse Santas — Here's Why
He might be white in your copy of The Night Before Christmas, but from corporate events to malls across America, families are seeking out diverse Santas. After all, why shouldn't the jolliest and most magical man on the planet reflect the kids he adores so much?
Well for one thing, there simply aren't as many Santas of color as there are white Santas — the director of the International University of Santa Claus, Tim Connaghan, estimates that only about 5 percent of professional Santa Clauses can be considered "diverse." Connaghan attributes this in part to the stereotype of Santa as white, which leads to a pipeline of elderly gents with enviable beards going into Santadom. This trend means it is even more important to seek out and support diverse Santas this holiday season.
Kids of color already are surrounded by messages that whiteness is the norm, from "flesh tone" Band-Aids that don't match their skin, to pictures coming out of Washington D.C. of our overly white and non-representative government. We've even managed to make Middle Eastern Jesus whiter than white. This imagery eats at the psyches of kids of color as they grow, as they feel othered by a society that considers their appearance a deviation from the norm.
Many families will travel to find Santas that reflect their ethnicity or even their child's special needs.
As my Black son has a magical encounter with Santa in our town's coffee shop, I cannot help but wonder a bit about the narrative we are creating where a rich white man gives gifts to all the children of the world — which is largely not-white, as white people make up a small slice of the world's population. It just reinforces the skewed power dynamic of society.
This is why diverse Santas are important.
But wait, doesn't this confuse kids used to seeing white Santa?
Nope.
Friends, they are already believing that one man travels around the world in one night, goes down every single chimney, and fills the house with toys made by small elves and then flies away in a sled pulled by magic reindeer. My kids had no problem understanding that Santa is super magical and can look like kids all around the world. That he can be Black, or Latino, or Asian. That he can speak English, and Spanish, and Kizigura, and Nepali, and sign language just like their friends do. That he can meet every kid just where they are at and make that kid feel super special. They did not bat an eye the first time they saw a Black Santa and I explained this. Magic is, well, magical.
Across the nation each December, speciality events pop up featuring diverse Santas. For the most part, most public Santas still default to white as the norm. Mall Santas are almost always white, even in diverse areas. However, many families will travel to find Santas that reflect their ethnicity or even their child's special needs. A Black Santa Directory on Facebook helps families across the country chase down Santas for their children. The Wintergarden in Pittsburgh, Pennsylvania, features Santas and Christmas traditions from around the world, showcasing the diverse way that other cultures envision Christmas magic.
Erin Pohland traveled three hours to take her son Andrew to see a Black Santa with a real beard and dark skin tone that matched his own. He is convinced he is the only real Santa, and that the others are just helpers.
But wait, now what about white kids? Does it matter what their Santa looks like? Of course it does.
Marny Helfrich took her 8-year-old daughter Grace, who is hearing impaired, to see a Santa who could sign through an event for Deaf Camps, Inc. in the Baltimore area. The annual event, held at a deaf church, allows kids to talk to Santa using sign language and feel fully included in the Christmas magic. They also do a signing Easter Bunny in the spring, which was the first costumed character that Grace was not terrified of. Being included and represented gives kids confidence.
But wait, now what about white kids? Does it matter what their Santa looks like? Of course it does. It matters just as much that a white child sees diverse people in positions of authority as it matters for black and brown kids. It matters just as much for able-bodied and neurotypical kids to see people in positions of authority who have different abilities, from teachers, to government leaders, to presidents, to Santa Claus himself. The only way we will work to erase the white savior narrative for the next generation is by actively seeking to dismantle it. And it doesn't have to stop at Santas.
Mainstream stores such as Target and Kohl's now sell Christmas ornaments featuring brown-skinned angels, as well as a dark skinned Elf on the Shelf (if you must subject your family to this torture). They've been embraced by families from many different backgrounds, because if you wouldn't think twice about a brown child having a white elf or seeing a white Santa, why would the reverse be any different?
This first-time mom wants to have a home birth, but is she ready? Watch how a doula supports a military mom who's determined to have a home birth in Episode One of Romper's Doula Diaries, Season Two, below. Visit Bustle Digital Group's YouTube page for the next three episodes, launching every Monday starting November 26.