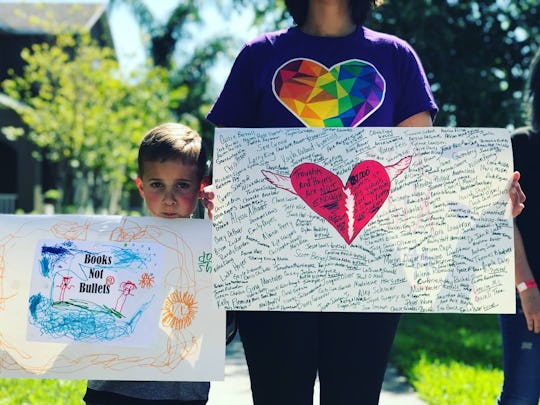 Courtesy of Candace Ganger
Every Mom Can't Make Every Protest, & Here's Why You Can't Feel Guilty
As I wrote the names of children who had died from school-related gun violence on a poster board, the white space disappeared. My kids, 6 and 11, clutched markers beside me. We were preparing for The March For Our Lives. In the 19 years since the Columbine massacre, nothing seems to have changed, and when the students of Parkland called the nation to action over "The 17," I knew we had to be there in support. We prepped our signs, and got in the car, but in the end, we didn't make it. I learned that, on the road to change, you can't protest every time; you will have to sit some events out. For every 200,000 people who show up to their Capitol to protest, there will be families, mothers who almost made it, but didn't; those who are there in solidarity.
My children are growing up in a world where the practice of active shooter drills is commonplace. Their very lives depend on how quiet they can be while squatting over a toilet during a required drill. Every time another fatal incident is flashed across the news, I — like many others — feel the innate need to protect the children by any means possible. Sometimes that means calling representatives or donating to an organization like Everytown — an organization fighting to change gun laws. Other times, it means lending your physical body and voice to a march like the one that rocked D.C. this past Saturday. But for some people, there are barriers to participation — accessibility, mental health issues, transportation, childcare, exhaustion, and level of privilege, among others.
"'A Day Without A Woman' is a strike for privileged protesters," wrote the L.A. Times of the Woman's March-organized strike in 2017. The author noted that working-class women don't have the ability to walk off their jobs where there is no stability, or forgo pay where they are earning an hourly wage. This week, the New York Times reported on early death among activists in the Black Lives Matter movement, writing, "An essential part of activism these days ... is ensuring that they and their comrades work through all the stress." The work of activism is hard on you, and the #NeverAgain movement, which focuses on children — on families ' requires this work of those who have the least spare time — just 17 minutes a day of me-time, per the Daily Mail — and who also carry a heavy emotional burden.
Public protest can be difficult for those who suffer from anxiety disorders. According to National Alliance on Mental Health, 1 in 5 U.S. adults experiences mental illness every year, with 1 in 25 diagnosed with a serious mental illness. Eighteen percent of those experience anxiety disorders ( current estimates are closer to 30 percent, per the Anxiety Center), which may include post-traumatic stress disorder, obsessive-compulsive disorder, or specific phobias that can severely interfere with your First Amendment right to protest.
Not everyone has the opportunity to forge on through debilitating mental-health woes.
When you compound large crowds, an unknown space, and social interaction, you're stimulating your anxiety disorder's protective reactant. I have a combination of generalized anxiety disorder, obsessive compulsive disorder, and post-traumatic stress disorder, with regular bouts of depression that render me incapable of going through the motions of a regular day. ADAA reports depression as the leading cause of disability worldwide with 1 in 13 suffering, often in silence.
Despite all of this, I planned to take part in the march to show my kids how best to utilize their voice for good. However, not everyone has the opportunity to forge on through debilitating mental-health woes. Per the American Psychology Association 52 percent of Americans call in sick to work for stress, which equates to 1 million people everyday. And that's your job — the thing that pays your bills. Imagine feeling the same physical reactions when you insert yourself into a protest, whether it's the righteous thing or not. I'd be remiss not to admit I battled my own fears and insecurities revolving around the march. Things like safety, personal space limitations, and an unorthodox obsession with lack of bathroom access chipped away at any confidence I developed in planning the day. Regardless, I committed to going, so I vowed to fight the voices and go.
Use your right to protest. Be loud and strong. Practice self-care.
Another reason some might've missed Saturday's events, is transportation, or lack thereof. And while it's true that NBA player Carmello Anthony partnered with MTV and NAAP to bus 4,500 kids from Baltimore to D.C., and Lyft offered free rides to those who reserved as much beforehand, up to $1.5 million, according to Mercury News, some didn't make the cutoff. There was also the Metrorail, whose numbers inflated to around 334,000 by 4 p.m. Saturday, carrying 2.5 times more passengers than a typical Saturday. Couple that with mental health pre-requisites and it's not as easy as getting to a big city event where upwards of hundreds of thousands of people are also headed. It's kind of a nightmare.
Transportation aside, there's another thing I didn't anticipate: childcare. I planned to bring my children with me — my kids, no strangers to political commentary, sat alongside and created protest posters of their own while I spoke of the historical importance of the event. They beamed with a sort of dutiful pride, but at the time, I didn't take into account the reality of what it might mean to them. The morning of, I sensed their wariness as I rushed to scribble the remainder of victim names on my poster, and rightfully so because they're kids. The moment I looked into their eyes as we circled for a parking spot, the irony of my right to protest became clear: I was asking them to sacrifice something in exchange for this very adult event.
The March For Our Lives was not the beginning. For communities who have been campaigning against gun violence for years and years, resistance has worn on everyone. "We are tired," Dereck Latif Scott, co-founder of Operation Hood told the crowd at the Coney Island branch of the March For Our Lives on March 24. "In the words of Dr. Martin Luther King Jr., an injustice anywhere is an injustice everywhere." And sitting out the movement is something only those with privilege can afford — people of color account for more than half the country's gun homicide victims, per Everytown. Black children are at greater risk of gun violence than white children.
The Parkland students, however courageous, are doing the job adults failed to do. But at the end of the day, they're still children and it shouldn't be their job — just as it isn't my kids' jobs to march in protest (unless they want to).
Ultimately, we didn't march Saturday, and even as a woman of color with white-passing children, I realize the privilege in admitting that. In a small way, it felt like giving them that piece of their childhood felt a little like giving the Parkland students theirs.
And so, use your right to protest. Be loud and strong. Practice self-care. Donate to the organizations dedicated to making a difference. And call your representatives. But if the time comes you can't march, whatever the reason, just remember: there will always be another war to fight.
Check out Romper's new video series, Bearing The Motherload, where disagreeing parents from different sides of an issue sit down with a mediator and talk about how to support (and not judge) each other's parenting perspectives. New episodes air Mondays on Facebook.