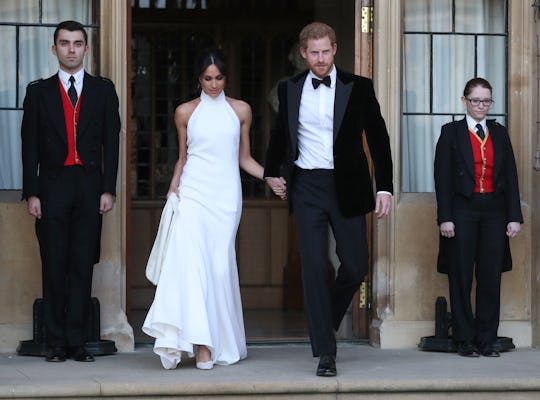 WPA Pool/Getty Images Entertainment/Getty Images
You Could Buy Meghan Markle's Stunning Reception Dress — If You're Prepared To Go Broke
The most I've ever spent on a dress, I think, was $250 — if that. I dropped a couple of hundreds for the outfit I wore to my high school prom, which was more than a decade ago. I haven't shelled out that much cash for a garment since then, but if someone gifted me a few grand, that may just change. Why? Because now you could buy Meghan Markle's reception dress that she wore on royal wedding day. There's one catch, though: The replica comes with a price — a very, very steep price.
The Duchess of Sussex first dazzled fans of the British royal family when, on May 19, she walked down the aisle of St. George's Chapel in a modest, but beautiful boat-neck wedding gown designed by Givenchy. But the elegance of her wedding dress was soon eclipsed by the absolutely gorgeous Stella McCartney-crafted garb Markle wore to the couple's royal wedding reception at Frogmore house. The dress was such a hit that McCartney is now selling both white and black versions of the dress, available to the public for — hold on to your wallets — more than $4,600 per replica, according to People.
Only a handful of Markle-inspired dresses will be available for purchase, though. McCartney plans to design 23 versions of the open-back gown in lily while, and 23 copies in onyx black, according to The Telegraph. The high-end replicas will be a part of McCartney's "Made With Love" capsule collection, which the designer plans to extend into a special wedding collection in the spring of next year, The Telegraph reported.
The 23-per-color limit is a call to Stella McCartney's new global flagship store that she recently opened at 23 Old Bond Street in London, according to The Telegraph. Fans of Markle's reception gown can buy the replica at the London shop, but the deal is rather exclusive: Customers would have to email 23oldbond.store@stellamccartney.com in order to receive a personal invitation to view and shop the dresses, The Telegraph reported.
But that's not the only place clients can pick up a replica. Versions of the Duchess of Sussex's second wedding dress will also be made available in limited quantities at other select Stella McCartney stores around the world, according to ELLE. The designer also plans to offer the dress for sale at her Madison Avenue shop in New York City starting Monday, a spokesperson for the designer confirmed to ELLE.
Unlike Markle's dress, which was made with silk crepe, the replicas will be designed using sustainable viscose, according to The Telegraph. But the fashion house has assured that these versions will still have all the flare and volume of the original reception gown, The Telegraph reported.
To be honest, I am not surprised McCartney is crafting copies of this dress to sell to the public. People fell in love with the design as soon as they saw Markle step out in the gown. And the British designer also seemed quite delighted by having worked with the new royal family member on this dress, telling Women's Wear Daily last month:
I am so proud and honored to have been chosen by the Duchess of Sussex to make her evening gown and represent British design. It has truly been one of the most humbling moments of my career and I am so proud of all the team on this stunning sunny royal day.
I don't have a few grand to drop on the replica, but if I did, I would in a heartbeat. The McCartney-designed gown is chic, elegant, and alluring. There's no occasion in which wearing the garment would make sense, but that's neither here nor there. Someone just give me money so I can buy it.