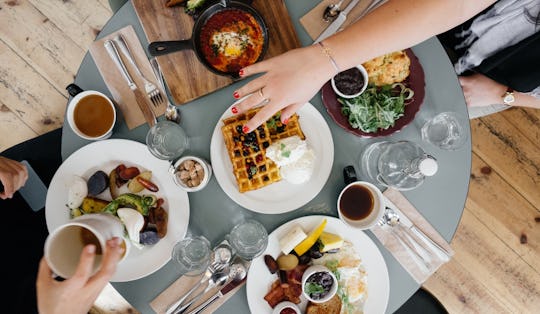 Your Morning Routine Before Kids Vs. Your Morning Routine After Kids: 10 Huge Differences
"That's not where your pants go!" I yell to my toddler as he's running laps around me with his blue jeans on his head. Soon enough, I catch him, one-armed, while cleaning rice cereal out of my 10-month-old's hair. "Can we please put pants on so Mama can get ready for work?" I plead with my son as he pets the baby's soft, cereal-covered head. "Never!" he responds and takes off. Suddenly, my kids are traveling in opposite directions and I am left in a puddle of milk and a pile of unworn clothes. My coffee has gotten cold, my teeth still aren't brushed, and so goes the story of mornings with children.
Once a quiet, peaceful time reserved for omelets and coffee, my mornings have taken a turn for the, um, eventful ("eventful" sounds better than "chaotic or hellacious," right?). Not only is sleeping in a thing of the past, but the notion of such an imaginary concept causes me to daydream about the sleep-filled euphoria of my previous life before kids.
I've never been a morning person — ever. I'd sooner stick my hand in a pit full of snakes than wake up at 5:00 a.m. on purpose, but parenthood sort of requires that I maintain a state of consciousness every morning before I'm truly ready. (It's a shame that I never really appreciated my responsibility-free mornings pre-parenthood.) To say that my "routines" have changed since then would be a gross understatement. Mornings with kids compared to mornings without kids are about as similar as Blake Shelton and Gwen Stefani, aka, monumentally different and are not even remotely alike in any way whatsoever.