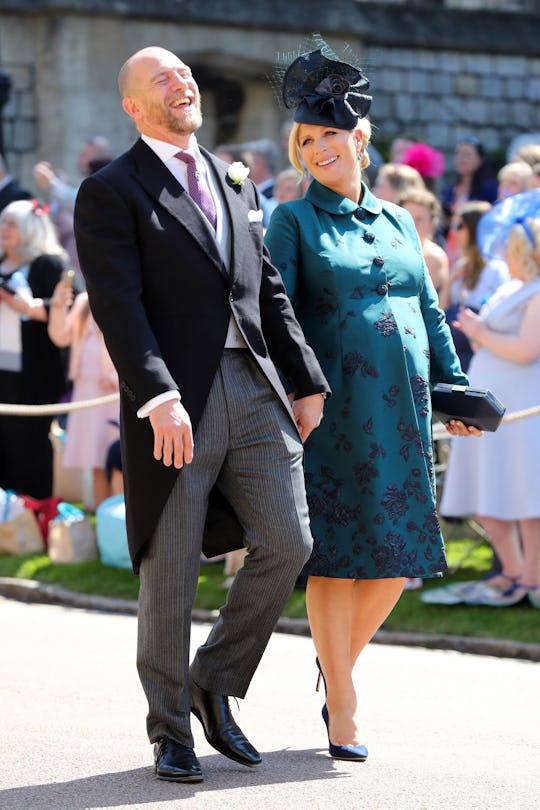 WPA Pool/Getty Images Entertainment/Getty Images
Zara Tindall's Daughter's Name Is A Touching Tribute To The Queen — Here's Why
It seems like the British royal family is always expanding. On Monday, June 18, Zara Tindall, Queen Elizabeth's granddaughter, welcomed her second child, a baby girl, with her husband, Mike. At the time, the Tindalls did not announce what they would call their newborn; instead, Buckingham Palace said in a statement that the little one's name would "be confirmed in due course." Well, that time has come, and Zara Tindall's daughter's name has been announced and it serves as a sweet nod to the Queen herself.
On Wednesday, Zara and Mike Tindall revealed that they have decided to call their baby girl, Lena Elizabeth Tindall, according to People. Elizabeth is the Queen's first name, suggesting the Tindalls gave Lena — pronounced Lay-na — the middle of "Elizabeth" as a touching tribute to her great-grandmother, People reported.
While Lena shares a name with the Queen, a spokesperson for the Tindalls reportedly told The Daily Express that Lena Elizabeth Tindall "is just a name they liked."
Lena is the Queen's seventh great-grandchild, as well as the fourth grandchild for Princess Anne, Queen Elizabeth's daughter and Zara's mother, The Express reported. She's also little sister to 4-year-old Mia Tindall, and second-cousin to Prince George, Princess Charlotte, and Prince Louis, according to The Express.
Zara Tindall gave birth to Lena Elizabeth at the Stroud Maternity Unit with Mike, a former rugby player, by her said, according to a statement released by Buckingham statement. The Buckingham Palace said at the time of Lena's birth, stating, according to E! News:
The Queen, The Duke of Edinburgh, The Princess Royal, Captain Mark Phillips and Mike's parents, Mr Philip and Mrs Linda Tindall, have been informed and are delighted with the news.
Lena is a welcomed blessing for the Tindalls. Zara, an Olympic equestrian silver medal-winner, revealed less than two years ago that she had suffered a pregnancy loss right before Christmas in 2016, according to E! News. Zara was about four months pregnant at the time of the miscarriage, The Daily Mail reported.
But her husband, Mike, said that their daughter, Mia, had been a "saving grace" for the family as they grieved the miscarriage, according to The Daily Mail. She would provide them comfort whenever the couple experienced moments of pain and sadness, according to her father. He told The Sunday Times in an interview last spring:
When I was playing, I hardly saw her, now we can see her grow up. However down we feel, she will come running up in our faces.
He continued, according to The Sunday Times:
I can take her swimming and I can take her to Ninja Tots. You'll never be able to see her there because she disappears in a puff of smoke.
Like her sister and parents, Lena Elizabeth Tindall will not have a royal designation. Although Zara and her brother, Peter, are royal family members by birth, previous laws governing royal status only allowed title to be passed down through men. Their mother, Princess Anne, was offered by her mother, the Queen, the option of giving her children "courtesy titles," but the princess declined, according to People.
But Lena's second-cousin, Princess Charlotte, has changed royal history in regard to titles. Thanks to a change to law, the daughter of Prince William and Kate Middleton will not be pushed down in the line of succession now that her baby brother, Prince Louis, is around, according to People.
Royal titles aside, this a wonderful time for Zara and Mike Tindall. The couple may have faced a devastating loss in recent years, but they are now proud parents to a bouncy baby girl, in addition to a 4-year-old daughter.