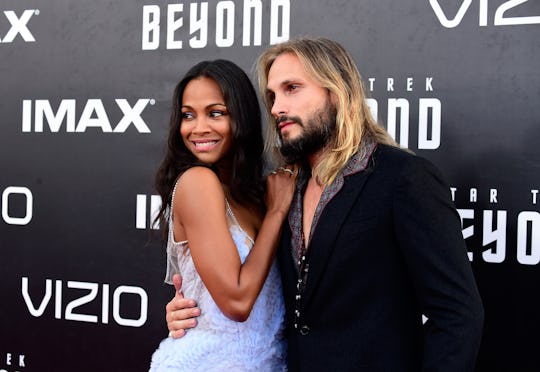 Frazer Harrison/Getty Images Entertainment/Getty Images
Zoe Saldana Shares Sweet Snap Of Newest Son
Surprise! She may not have made any public announcement that she was planning on growing her family again, but Zoe Saldana's first photo of Zen, her newborn son, is the sweetest family portrait du jour on Instagram. On Saturday, the Guardians of the Galaxy actress posted the adorable shot of her 2-year-old sons and their brand-new baby sibling, letting fans know how "elated" and "blessed" she and husband Marco Perego are about their newest addition — and showing them exactly why.
"Marco and I are elated to share the news of the the birth of our son Zen," she captioned the photo, which features the brothers, including twins Cy and Bowie, on a play mat together. "We couldn't feel more blessed with the new addition to our family. #threeboys... oh boy!" Even though none of their faces are clearly visible, it's hard to miss the brotherly love between the boys, especially as one of the older brothers cradles the back of little Zen's head.
The picture was a surprise to some fans, because Saldana last appeared in public at a party for Los Angeles Confidential's winter issue — she's on the cover — just a couple days before it went live, and she did not appear pregnant, according to E! News. But New York Magazine reported that she and Perego were spotted leaving a Los Angeles hospital together with the baby before that, on Feb. 13.
This, of course, led to speculation about whether Saldana was ever pregnant with her new son in the first place, or whether she had adopted the boy or used a surrogate. But, honestly, the fact that she and Perego, a notoriously private couple, decided to even share the photo of their brood grants the general public more access and information that we are entitled to — so it's not really appropriate to hound the couple about how the newest baby came about, as well.
What we do know is that the boys will grow up connected to their family's culture and heritage. In a September 2016 episode of the Rosé Roundtable YouTube series Saldana shares with her sisters, the Avatar actress — who spent her first 10 years growing up in Queens before moving to live with her grandparents in the Dominican Republic — reflected on why it's essential to raise children to feel connected to their roots. "... They can create some kind of empathy for human beings that do not look like them, and do not sound like them, and do not smell like them," she said, referring to her Puerto Rican ethnicity as well. (Perego is an Italian artist.)
And as Saldana and Perego raise their boys, it will be exciting each time they allow their fans a glimpse of their lives. Because chances are they'll just keep getting cuter and cuter.
Congrats to the happy family!