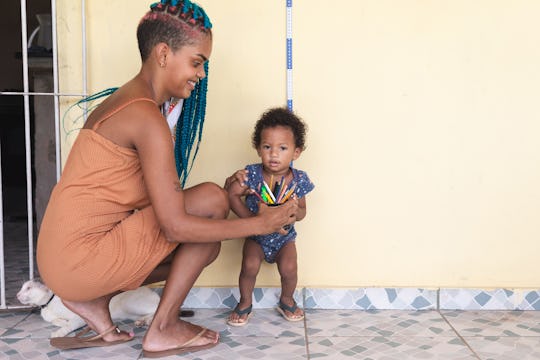 wagnerokasaki/E+/Getty Images
4 Signs Your Baby Is Going To Be Tall
It would be so nice if parents could magically tell exactly what their babies will be like as they get older. It's impossible not to be curious about everything from their personality, to their intelligence, to their size. For the most part, parents have to wait and see, but, in some cases, they can also make some educated guesses. If you're wondering about your baby's height, for example, are there signs your baby will be tall that you can watch out for?
Do tall babies become tall adults?
It depends, according to Dr. Mona Amin, DO, FAAP, a board-certified pediatrician. "The bigger factors to consider here are genetics, nutrition, and environment," says Amin. "The scientific answer is there's no evidenced-based scientific way to predict height."
I can definitely speak to this being a total crapshoot. As the product of a 5'2" mother and a 6'2" father, my height genes apparently came from my mom, as I share her short stature. I've spent a lot of money in my lifetime having clothes hemmed to my tiny frame. Then again, if it had gone the other way I'd be complaining about all the pants that didn't quite reach my ankle. Such is life, right?
At first thought, you might guess that long babies become tall adults, but as Dr. Yamileth Cazorla-Lancaster, DO, MPH, MS, FAAP, a board-certified pediatrician, explains, that isn't always that case. "The average birth length in the United States is around 20 inches," Cazorla-Lancaster tells Romper. "Most full term babies will be around this length when they are born. Birth length is not strongly predictive of final adult height. Of course gestational age may affect the size of the baby at birth tremendously, so it's not necessarily predictive of above average stature."
Some parents definitely hyperfixate on their child's body size, be it their weight or height, but the truth is, height — even within a family — can differ in so many ways. "My job as a pediatrician is to make sure that they are growing appropriately along their curve and to reassure parents that everything is going well," Cazorla-Lancaster says. "As long as children have access to sufficient calories they are going to be the size their genetic blueprint determines. Body size can differ greatly among siblings being raised in the same family and the same environment."
Ultimately, height isn't an indicator of your child's health or worth, so spending too much time thinking about it beyond what their doctor says isn't all that useful. "As a society we tend to value height, but I think we need to remember that this is a cultural construct," says Cazorla-Lancaster. "We should be careful not to imply to children that being a certain size makes them more or less worthy. Also just because your child isn't tall or lean (by our cultural standards) it doesn't mean that you are a bad parent or did anything wrong. Let your child grow and develop into who they are meant to be without pressure and without expectations."
Obviously, they'll be just perfect no matter where they fall on the growth chart.
Things That Impact A Baby's Height
All this being said, you still might be curious if you can predict your little one's height, even if just for some light-hearted fun. There are a few signs that your baby could grow up to be tall, though none of them are foolproof and only time will truly tell.
All in all, there is no exact way to predict how tall a baby will grow in terms of height — just like there's no way to predict their unique personality — though it can be fun to guess. So regardless of if your little one grows to be of basketball player or gymnast height (or literally anything else), they will be just perfect they way they are.
Study referenced:
Cole, T. J., & Wright, C. M. (2011). A chart to predict adult height from a child's current height. Annals of human biology, 38(6), 662–668. https://doi.org/10.3109/03014460.2011.598189
Experts:
Dr. Mona Amin, DO, FAAP, a board-certified pediatrician
Dr. Yamileth Cazorla-Lancaster, DO, MPH, MS, FAAP, a board-certified pediatrician
Dr. Mark Freilich, developmental pediatrician and founder/medical director at Total Kids Developmental Pediatric Resources
This article was originally published on