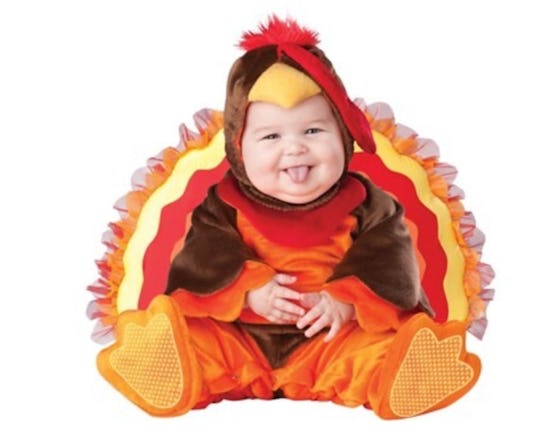 Halloween Costume
From Turkey Hats To Pjs, These Are The Cutest Thanksgiving Clothes For Babies
You'll gobble up these adorable looks.
Let's face it: for most family meals, almost everyone shows up to the table in sweats or pajamas. There's no real reason to think about adding on accessories — or even pants in some instances. But Thanksgiving is…different, somehow. Sure, it's still the same family members and friends for the most part, but everyone makes more of an attempt to pull themselves together and look nice as they gather around the table to eat and give thanks. But what about baby? They deserve to be stylish, too, even if they don't even have the teeth to yet to enjoy the meal. So if you're looking for something to dress up your little guy or gal, these baby Thanksgiving outfits will make you want to gobble them all up.
You'd think that after spending the greater part of the day cooking in the kitchen, or refereeing fights between older siblings (including your own), that the last thing you'd want to do is then get all gussied up to only sit down and eat the meal that took hours to prepare. And still, we almost all do it, every year. Especially if it's your baby's first Thanksgiving, you're going to want them to wear something memorable to commemorate the occasion, since they'll probably be passed from person to person more than the stuffing and sides you've prepared.
Get ready to totally fall in love with these looks that celebrate the season, your baby, and the ability to be together as a family this Thanksgiving.
We only include products that have been independently selected by Romper's editorial team. However, we may receive a portion of sales if you purchase a product through a link in this article.
Your baby's first Thanksgiving is so incredibly special. Even with all the stress that cooking and being stuck with family for hours on end can bring, seeing your child all dressed up will remind you how important it is to be thankful for the little things in life, like good food, family, and your baby.