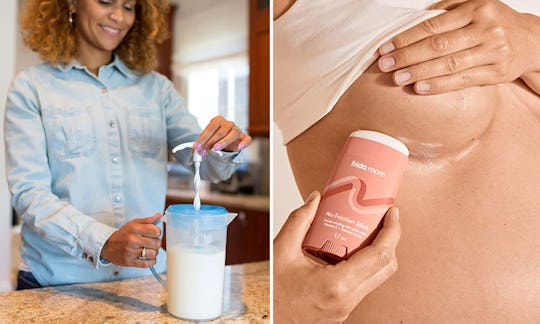 15 Weird-But-Genius Products For Breastfeeding Parents
Plus, hacks straight from moms who've been there.
There is so much to learn when you start breastfeeding, from latches and flanges to clogged ducts and fat content. And for every stage and challenge along the way, it seems like there are so many products available, it's hard to know what works. The best products for breastfeeding parents are the ones that make tasks easier, like milk storage or massaging a clog, or alleviate some of the discomforts that come with this journey, like cracked nipples and engorgement.
First-time parents, don't let learning about breastfeeding overwhelm you. If purchasing all the nipple balms and hot packs ahead of time makes you feel prepared, go for it. If you'd rather wait and see what you really need, that's OK too. If you've breastfed a baby before, you may feel like you've found everything that works for you. But even for experienced parents, there are hacks and products you can use in genius ways that will have you saying, "Why didn't I think of that?"
The truth about breastfeeding is that it changes over time, and with every baby you may have. That means there's always room to learn, grow, and find a new holy grail product that actually does what it claims.
We may receive a portion of sales if you purchase a product through a link in this article.
No matter the hurdles you face in your breastfeeding journey, there are products out there designed to help. Or, at least, to make things less uncomfortable along the way.