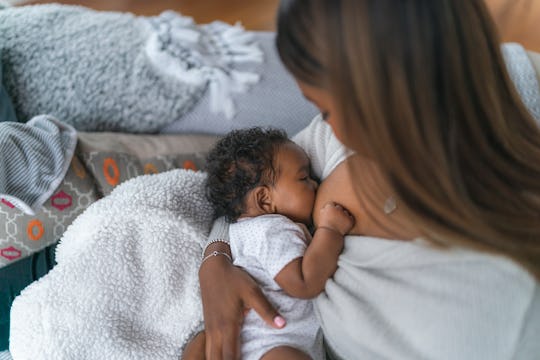 Fly View Productions/Getty
13 Nursing Bras & Pumping Bras You'll Actually Love To Wear
Your boobs deserve better than your pre-pregnancy bras.
Along with a new baby, a new schedule, and a new sense of responsibility, becoming a mom is going to require some new bras, especially if you're planning to nurse or pump. The best nursing and pumping bras are supportive yet comfortable, easy to get in and out of, and conveniently accommodate access for Bebe or various parts of a breast pump. They are also ideally hands-free so you're able to scroll, snooze, or read as you express breast milk. Luckily, many of the nursing bras available now are actually cute (even comfy lace is not out of the question), so you can opt for something pretty as opposed to a strictly utilitarian, bulky contraption.
So much of pregnancy is mysterious, but here's a universal truth: The pregnancy and the post-partum period will change your boobs. You can shove most of those cute little bralettes and bandeau bras into the back of the drawer for now. While you're breastfeeding, you'll need one of these nursing and pumping bras that are soft enough to sleep in (because you'll be snoozing in a bra a lot) and that allow you one-handed, unbridled access to that "liquid gold." On this list you'll find wireless bras, seamless bras, racerbacks, sports bras, and underwire bras, all designed with nursing and pumping in mind.
We may receive a portion of sales if you purchase a product through a link in this article.
Providing breast milk for your child can be more of streamlined and comfortable experience with these comfortable and practical nursing and pumping bras. You might even find yourself keeping them in the rotation after you wean.
This article was originally published on