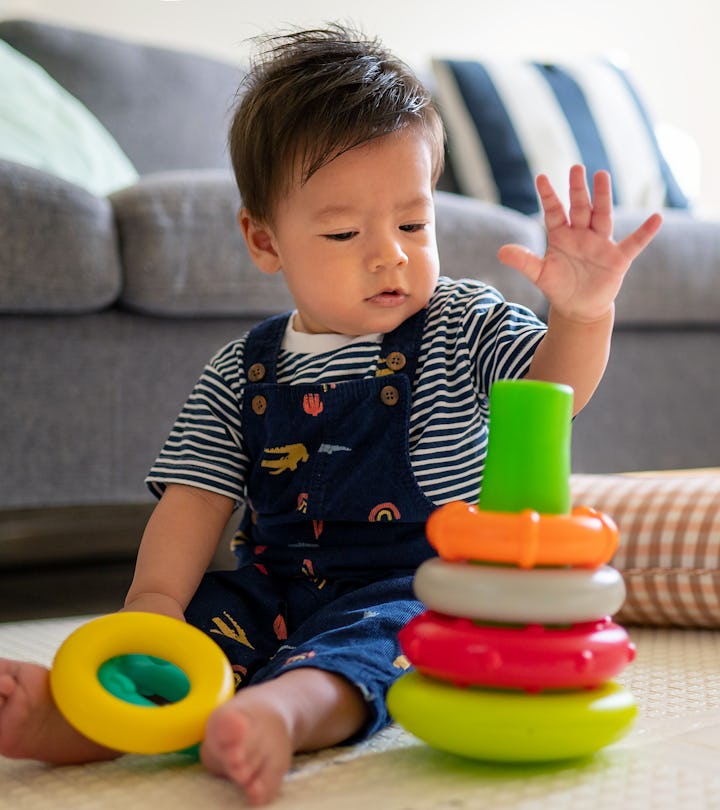 Stefan Tomic/E+/Getty Images
The 40 Best Toys For 6-Month-Old Babies
Top-tier toy options for the teething, crawling, babbling age group.
We may receive a portion of sales if you purchase a product through a link in this article.
As a new parent, I remember being totally clueless about baby toys. I thought, Do babies even need toys? I sure did have a lot to learn. One thing I did pick up on quickly though is that when they're around 6 months old, babies will play with pretty much anything — a cardboard box, the remote, your house keys. Everything is a toy. But, there are also some amazing toys on the market for this age group, and the best toys for 6-month-olds tend to be ones that will support their development and even grow with them.
What to consider when buying toys for 6-month-olds
At around 6 months, babies start to grab anything and everything within their reach, and it almost always winds up in their mouth. So, it's especially important for 6-month-old toys to be made with materials that are safe for teething. Crawling is also a developmental milestone that can be on a 6-month-old's radar. Toys that encourage babies to scoot across the floor, use their arms and legs to propel themselves, and eventually build up the strength needed to crawl are right on target for this age range.
When considering which toys to purchase for a 6-month-old, it is important to note that "not every toy is safe even when marketed as age-appropriate," says Dr. Michelle Ruda, a board-certified pediatrician and UTHealth Division Director of Child Safety and Integrated Care, an affiliate of Children's Memorial Hermann Hospital in Houston, Texas. "Parents and caregivers should be aware that serious injuries can and do occur from seemingly appropriate toys," she tells Romper. Ruda advises parents to read labels carefully and avoid toys that have small batteries or high-powered magnets that can potentially be ingested and cause serious injury.
"Be careful when purchasing crib toys to avoid potential choke hazards and an unsafe sleep environment," Ruda says. "Buy toys with parts that are larger than your child's mouth and avoid those with small, loose parts. Soft objects and loose bedding can increase the risk of suffocation in an infant. Items with strings (i.e. mobiles, hanging toys) should be kept out of reach to prevent strangulation injuries."
Whether you're stocking your own baby's toy room or shopping for a baby shower gift, this list of the best toys for 6-month-olds is full of great options that will keep babies engaged, occupied, learning, and stimulated while they play.
From stacking toys that engage their emerging problem-solving skills to self-propelled toys that encourage crawling and large motor development, there are plenty of great toy options for 6-month-olds to choose from. With so many fun choices on this list, your baby is sure to have a blast as they learn through play.
Expert:
Dr. Michelle Ruda, board-certified pediatrician, UTHealth Division Director of Child Safety and Integrated Care, an affiliate of Children's Memorial Hermann Hospital in Houston, Texas
This article was originally published on