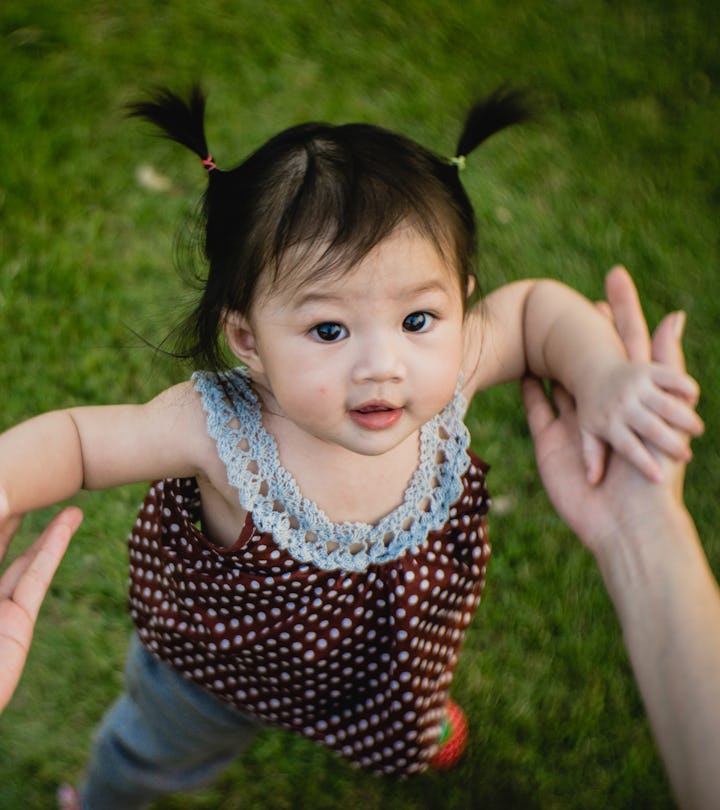 Shutterstock
25 Instagram Captions To Celebrate Your Baby's First Steps
Yes, you're totally crying.
Your baby has taken those first wobbly steps, and you happened to capture the magic moment on camera. There's only one thing to do now, and that's share your joy with the world. These Insta captions for those precious pics of baby's first steps will help you know exactly what to say. Because really, it's moments like these that most often leave you speechless, so it's helpful to have some "baby's first walk" quotes on hand.
Your baby's first steps are so special in part because they're so spontaneous. In general, babies start walking when they're around 12 months old, according to a study on crawling, cruising, and walking in Developmental Science. This is only a guideline, however. Because the skills that babies gain while crawling or cruising don't always transfer directly to walking, according to the study, even babies who are experts at cruising around on furniture may take a little time to get the whole walking thing down. On the other hand, some babies skip the cruising stage and start walking right away, as noted in Romper. The journey to those first steps is pretty unique for each baby, essentially. So in celebration, your kiddo deserves some baby walking quotes as special as they are.
This article was originally published on