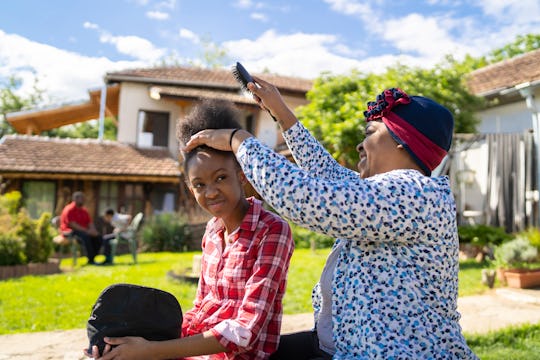 Vladimir Vladimirov/E+/Getty Images
Try These 12 Cute Hairstyles On The First Day Of School
A fresh hairstyle to help start the school year off right.
Back when I was a kid, I would meticulously plan out my whole first day of school look including shoes, my outfit, and accessories. Of course, I also had to consider some first day of school hairstyles to finish off my look. I imagine kids today still do this, but unlike me, they're lucky enough to have the internet to help them out.
I am not ancient, we did have the internet when I was younger, but we certainly didn't have Pinterest, blogs, and YouTube. Instead, I had to rely on the latest Mary-Kate and Ashley movie to inspire my newest hairstyles (suffice to say, there were a lot of styles featuring butterfly clips and zig-zag parts). Now, kids can simply type some keywords describing their hair length and texture into Google and get pages of results with step-by-step tutorials to help them get the look they want. First day of school hairstyles have seriously never been so easy.
Is it fair that kids today don't have to walk around looking like bad knock-offs of their favorite trendsetters like I did? No. But, since they (and their parents) have the resources to look like total rock stars on their first day of school, they might as well take advantage.
This is just scratching the surface of the many, many tutorials you can find online. With so many first day of school hairstyles to choose from, your kid may as well plan out their look for the entire first week of school instead.