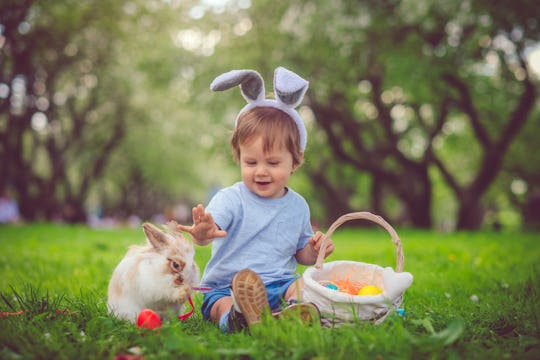 ArtMarie/E+/Getty Images
Here's How To Tell Your Kids The Truth About The Easter Bunny
He's hopping down the bunny trail for the last time.
As a parent, you always try to tell your child the truth. But there are some childhood myths that are too magical to pass up, like Santa Claus or even the Tooth Fairy… until your kid spies you stuffing copious amounts of Easter candy and bags of treats into the trunk of your car. So if it's time to come clean, here's how to tell your kids the Easter Bunny doesn't exist.
If you're not exactly hopping (ha) to tell your child that the tale of the Easter Bunny isn't true, we can't say that we blame you. Like all of the tales we tell our kids that aren't quite legit (we're looking at you, Elf on the Shelf), the Easter Bunny represents a specific space and time in your child's life, and one that is not going to come back again. So it's no wonder that you're spending the night before Easter crafting the cutest basket full of candy and small toys, hoping that you get just one more year of childhood innocence and blind belief in the Easter Bunny. "Kids are phenomenally imaginative, naturally curious, and incredibly perceptive, and these three traits are what at first draw kids to the idea of the Easter Bunny," Christina Furnival LPCC, a licensed psychotherapist, tells Romper. "And ultimately, it's what sparks questions about the Easter Bunny's true identity."
So if your kiddo is starting to get a little suspicious about how a bunny can bring baskets full of pastel-colored treats to your home (and kids everywhere), these are some ways to have the conversation.