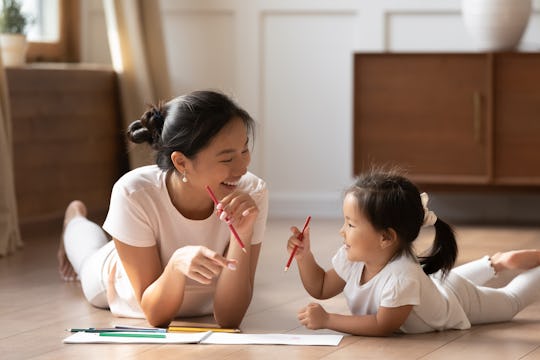 Shutterstock
These Free Printable Hummingbird Coloring Pages Are So Pretty
Watch your kid's creativity take flight.
With their super small stature, bright colors, and ability to seemingly hover over flowers mid-air, hummingbirds are absolutely adorable. So it makes sense that your kiddo might want to grab their markers and make some artwork that involves these fast-flying birds. And these 20 hummingbird coloring pages can help your child create some very pretty pictures of these beautiful birds.
Unlike other garden-variety birds, there's something special when a hummingbird comes to buzz about your flowers. "A hummingbird's small size is a draw, as is their amazing flying skills, along with their gem-like colors," Britt O'Leary, MS, a bird expert tells Romper. "The one big reason that kids love them so much is that they're not afraid of people — sit quietly near a hummingbird feeder or the kind of flowers they like long enough, and the birds will feed quite close to you." Unlike other birds that flap about, hummingbirds get their name from the sound that their wings make from flapping so fast. Plus, a hummingbird's heart beats 1,200 beats per minute, (per the National Park Service), which might make your own heart skip a beat when you see one near your impatiens or petunias.
So crack open the crayons and get ready to color with these 20 hummingbird coloring pages. And woot, all of them are free to download and print.
Whether it's due to their small size, the way their wings flap furiously, or how they hover from one flower to another, hummingbirds are a beautiful bird to behold. And with these 20 coloring pages, your kiddo can enjoy coloring them to their hearts' content.
This article was originally published on