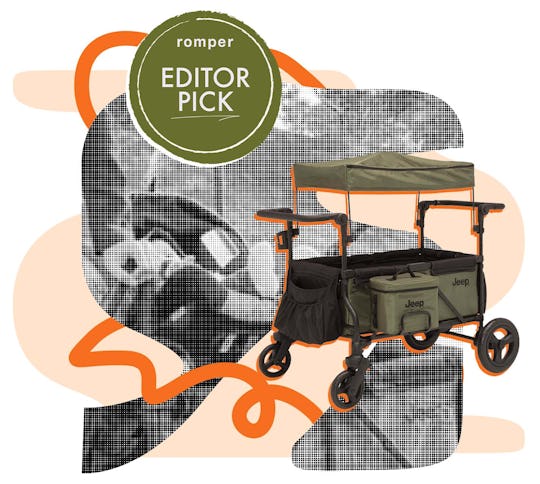 Yes, The Jeep Wrangler Stroller Wagon Is 100% Worth It With Two Kids
If you have two little kids, this wagon means freedom.
Had To Share
We may receive a portion of sales if you purchase a product through a link in this article.
Before the stroller wagon came into our life, getting out for a walk with two little kids usually looked like this: My 4-year-old would say something along the lines of, "I want to ride in the stroller!" Then, I or my husband would say something like, "Well, your baby sister can't walk yet, so she gets the stroller." And that would go on in a back-and-forth fashion for however many minutes it took for us to either convince the older child that riding on a buddy board (or, painfully, our shoulders) was somehow as fun as riding in a stroller. Or, some of the time, we'd give up and just stay home, quietly losing our minds.
We'd noticed families — usually families with more than one kid at the farmers market — using wagons instead of strollers, and we started to see the utility in it. So, in a fit of desperation to get outside more easily, my husband ordered an inexpensive wagon meant for hauling sports equipment. Our first trip around the block illustrated how dicey it was to use a wagon meant for soccer balls for small, wiggly children, and the nanny declared it a "hellscape" after trying to cart the kids around in it at the zoo. We packed it away, and when I got the opportunity to test out the Jeep stroller wagon — which is super burly and ultra-safe for kids — I jumped.
In this nearly over-engineered wagon stroller, both kids are securely buckled — hallelujah — into identical seats. They have exactly the same amount of room. They cuddle together under a blanket, each buckled into their own side of the wagon. If they don't want to put on shoes, we say fine, and drop them, shoeless, into the wagon. Then we stash the sneakers in one of the wagon's many storage compartments, then buckle, blanket, and head out the door.
Having this seriously tricked-out stroller wagon in our lives has made on-a-whim weekend coffee runs and random neighborhood wanders many times more accessible to us than they used to be, because we have significantly less to fight with the kids about. I only wish we'd had it when my youngest was first born, because with the car seat adapter, it would have been so easy to get outside as a family of four right away.
Stats
Price: $299-$399, depending on whether you choose the standard or deluxe model
Colors: Earthy green or light grey
Who it's for: Families with two little kids who want to get outside easily
When to use: Every day, or for special outings
Pro-tip: A lot of people seem to want to use these on beach trips. If you want a wagon stroller that can handle sand, upgrade your order by adding sand wheels for an extra $89.
Are stroller wagons worth it?
Is a wagon stroller worth it is really the million dollar — or rather, the $300 to $600 — question. And everyone is going to have a slightly different answer. For my money, for our family, the answer is definitely yes. Having a wagon stroller is an absolute asset. Sure, it's bulky. But anything that makes my children less likely to fight and more likely to get out the door (in all weather, mind you) earns a place in my home. And yes, the Jeep stroller wagon takes up its share of space in my home. How exactly do I store the low-key behemoth? I'm so glad you asked.
How I store the Jeep wagon stroller
While my house is not quite as cluttered with kid-stuff as Julia Fox's — and more power to her, I say — anything that sees regular usage has to live close to the front door. We don't have a garage, or a big coat closet, or really any coat closet at all, so the wagon stroller lives under a window, not too far from the front door. Even folded up, it's bigger than our UppaBaby Cruz stroller, but it's worth it for how fast we can get out the door when magic strikes and the children are amenable.
Folding and unfolding the Jeep wagon stroller is really, really easy, which is yet another thing I love about it. You simply:
Pull the little strap right in the middle of the seating area of the wagon.
The wagon will collapse into itself as you pull up on that little strap. To get it to stay in the folded position, just be sure the little catch on the side of the wagon is hooked into place.
The accessories
Yes, this delightfully over-designed wagon stroller has a canopy, but it also has so much more than just a canopy. It's borderline silly how many accessories this wagon stroller comes with, but I have to say I love its storage capacity. Oh, the storage! It's what makes it obvious to me that a fellow parent — or maybe many fellow parents — was involved in the design of this thing.
In our home, it has been a bringer of sibling-harmony.
All of the storage accessories are removable, too, so you can decide what to utilize and when to leave the rest at home. If you're heading out for a quick walk to the park, maybe all you need is the wagon. If you're heading out for a big day, load up all of the various caddies and coolers and enjoy leaving any other diaper bags and purses at home. The Jeep wagon comes with:
A UV-blocking canopy that functions as a sunshade or rain shield with zipped-in, pull-down shades to use as needed.
Bug netting that is zipped into the canopy and can be rolled up and stashed away or Velcroed to the sides of the wagon.
A small, insulated cooler ("holds over 16 cans" if that's helpful to anyone) that can be hung on the side of the wagon, or slung over your shoulder.
Not one but two multi-pocketed caddies — one hooked to the front and one hooked to the back of the wagon — that Delta kids call "parent organizers" and I call "mobile diaper bags."
A solid cup holder that's a bit narrow but works for most beverages.
Pros & cons
Pros:
It has seat belts. Before we got an official wagon stroller, we were using a sports wagon thing for occasional neighborhood walks. That was a bad idea and you shouldn't do it, which we realized as soon as my youngest learned to stand up.
My kids don't fight about who gets to ride where.
We can go farther and stay out longer as a family of four.
It's incredibly solid. I feel like my kids are really safe in this thing. The frame is strong, the weight is balanced, and the overall construction is just really high-quality. Even the handles — which are adjustable and can be easily folded away, too — feel really solid.
According to Delta Kids, the wagon is compatible with Graco SnugRide Click Connect 30, 35, 40, Evenflo Nurture and Embrace, Britax B-Safe 35, Chicco KeyFit 30.
It holds up to 110 pounds, or 55 pounds per seat.
It's nice to look at. A lot of kid gear is kind of ugly and I love the olive green color of the Jeep wagon.
Cons:
It's a little hard to steer for one person.
At basically $400, it is not inexpensive.
It's too big to fit in the trunk of smaller cars.
Figuring out where to store it is a conundrum for some of us.
It only works for two kids. If you plan to have more than two kids, it may not be the right product for you.
The final verdict
Sure, it's big and burly. Yes, storing it is an issue. But the Jeep stroller wagon is not just another hyped-but-useless piece of parent gear. In our home, it has been a bringer of sibling-harmony. Which, in turn, is a bringer of jollity for all. Although a wagon stroller is not a must for every family, I do think that if and when a second kid comes along, a wagon stroller is a great investment. I wish we'd saved what we spent on a "buddy board" attachment for our stroller when our second child was born, and invested that money in a great wagon stroller like this one from day one, especially considering it is compatible with infant car seats.
If you have somewhere you can stash it — folded up, the wagon is 38 inches long by 29 inches wide, and 25 inches high — the Jeep wagon stroller is more than worth it. It's a little pricey, but you likely won't need to buy much for your second child, so if you do have a little budget for baby number two, the stroller wagon is a good place to invest it. Or, consider asking for one from a generous family member, if you're lucky enough to have one of those.
The TL;DR
If you're expecting a second child, the Jeep wagon stroller may be a terrific investment for your growing family.
Had To Share highlights the products and finds that Romper editors and contributors love so much, we just had to share in the group chat.