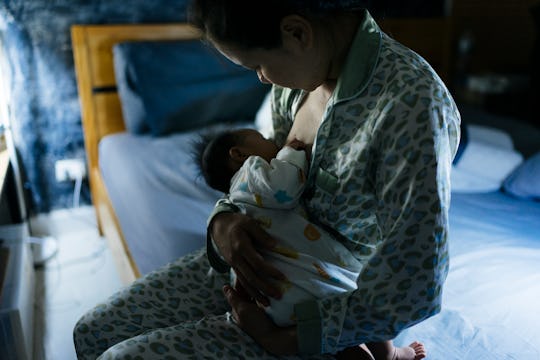 skaman306/Moment/Getty Images
These 20 Instagram Captions Totally Sum Up Those Midnight Breastfeeding Sessions
Because exhaustion and putting words together don't exactly go hand-in-hand.
Sleep deprivation goes hand in hand with new parenthood, and when all you want to do is crawl back into bed, those late-night feedings seem to take so long. One way to pass the time is by taking pictures of your baby and posting them alongside some midnight breastfeeding Instagram captions. When the pictures show up on your followers' feeds, fellow parents will smile and nod and probably give you a "like" in solidarity.
Whenever I had to wake up in the middle of the night for a feeding, I always made sure to grab my phone so that I could entertain myself while my baby ate. Sometimes I'd do some online shopping, other times I'd put in my earbuds and watch an old episode of Forensic Files on Netflix (that's totally normal, right?), but more often than not I'd take way too many pictures of my adorable, sleepy baby and post them on Instagram. In hindsight, I wish I had had an arsenal of midnight breastfeeding Instagram captions to pull from back then because trying to come up with a coherent caption when you're sleep-deprived is a pretty big ask.
So, if you find yourself in a similar position, taking a ridiculous number of pictures of your baby to help you pass time, then you're going to need some midnight breastfeeding Instagram captions to go with all of those cute photos. And, if you're not feeling particularly creative (or intelligible), here are a few to just copy and paste while you're half-awake.
Make things easy on yourself and post one of these midnight breastfeeding Instagram captions alongside your latest baby photo. Not only will it require less late-night brain power from you, but it will also give you more time to sit back, relax, and watch something on Netflix (no, it doesn't have to be Forensic Files).