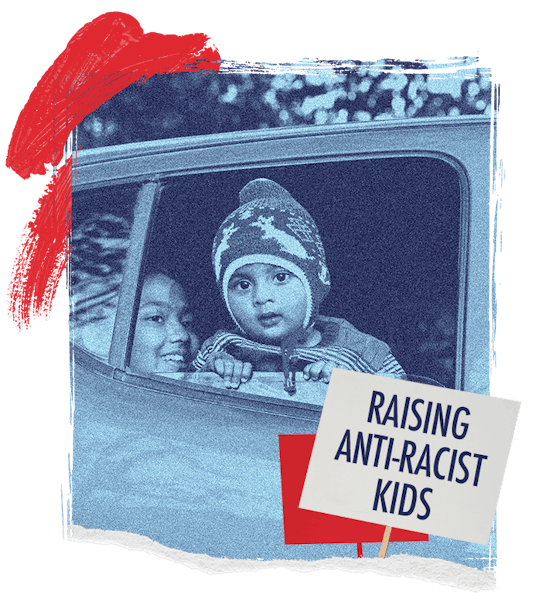 Dream Lover/Stocksy
Travel Can Reinforce Structural Racism — Here's How To Show Your Family A Different Way
Being anti-racist is not a destination — make it part of your family's journey.
While the pandemic isn't in our rear-view mirror quite yet, many families are finding safe ways to travel and spend quality time together this holiday season. Whether you're road-tripping to see relatives in another town or venturing further afield over winter break, if you're a family that has been centering anti-racism as a core tenet of your home and lives, you're probably seeking out ways to translate that to your vacation plans.
Being anti-racist is not a destination (pun intended), but rather a continuous commitment to dismantling systems that marginalize and harm people of the global majority. It's totally possible to integrate this even when you're out exploring the country or the world.
Here are 6 things to remember when you're planning your next trip as an antiracist family.
Whose land are you traveling to?
If you're traveling within this country, it's important to talk about whose land you're traveling to. This is also applicable if you're heading to another country that has been colonized. Parents can seek out ways to not only educate yourselves and your children on the systemic colonization of — and harm done to — Indigenous people, but also find ways to have an impact on issues affecting them in the now, as guided by that community.
In addition to acknowledging and discussing the Indigenous people to whom the land belongs and learning about the history of the land and any related treaties, the Native Governance Center recommends researching the names and correct pronunciations of the names of local tribes and finding out which individuals from the local community are doing work there. As with all anti-racist work, don't stop at conversations: Find ways to translate your knowledge to action.
For example, a quick Internet search tells me that if you're traveling to or within California, you can check out the California Tribal Fund, which supports "California-based, California-Native-led nonprofits and tribal programs in controlling and protecting their food systems, water, languages, traditional ecological knowledge, and land." This is absolutely something you can involve your kids in! Just add "for kids" to your searches and see what fun and informative information comes up.
Support local POC-owned businesses.
Traveling with little ones takes lots of planning. When we travel with our two small kids, we usually need to find restaurants that'll serve food they will eat, find activities for them to do, and find hotels that have enough space for a Pack 'n Play in the room. We do this research ahead of time so we're not making rushed decisions that'll result in, for example, being trapped in a hotel room with two cranky, hungry kids who refused to eat anything on the menu!
When you're making all these choices for your family, seek out businesses that are owned by people of color — something that's always important, but especially vital since the pandemic has disproportionately hurt small businesses owned by minorities. (In January, Forbes reported that about one-third of minority-owned businesses had been forced to cut employee hours, and nearly one-quarter had temporarily closed their doors.) Your support can make a real difference in keeping their doors open.
Researching which ones to support with your kids can be an avenue to discuss why, as a family, you're choosing to focus on supporting businesses run by people of color. A simple Google search is a great place to start (for example, see what happens when you search "Black-owned Montclair NJ restaurants").
Don't just be a tourist.
Whether you're traveling locally or globally, educate yourself on the culture of the place you're visiting. The internet provides ample ways to learn about cultures and customs, but keep in mind the bias of who is given the microphone in many places. Many times, communities of color find our experiences are tokenized and commodified for people's entertainment while giving voice to white communities and gentrifiers. Seek out the voices of the people with the least access and privilege.
Involve your kids in seeking out activities that don't just cater to you as a visitor but that actually acknowledge the work local people are doing in the community. The Millennium Alliance for Humanity and the Biosphere (MAHB) at Stanford University offers guidance for the "ethical tourist." They recommend buying souvenirs and gifts from local artisans and sellers, staying at locally-owned accommodations, and taking tours from local guides. This not only leads to interaction with the people in the community, but ensures that your money actually benefits them.
Don't apply a Westernized lens to other cultures.
If you're traveling around the world, be open to a different way of life. Especially if you're visiting for the first time, you probably don't know all the factors that go into what makes a culture unique.
When I lived in Trinidad and Tobago for the first 19 years of my life, I remember visitors from America would struggle to adapt to so many parts of my culture that were everyday experiences for me and that made up the uniqueness of the country. They complained about the heat, the customer service, the mosquitos, the food, the pace of life, the lack of resources compared to the United States, and so much more. I struggled with this because I've always been proud of my country and also want to show it off to others.
Encourage your family to travel with an open mind and to be receptive to a way of life that may not be similar to what you're used to.
Don't just take from the place you're heading to.
As a visitor, you're probably thinking of all the memories you want to make and all the things you want to take away from the trip. It can be more than just centering your experience, though: Think about how you can contribute meaningly to the town or country. Contributing meaningfully can mean donations to local causes or volunteering — maybe a local group or organization needs more hands on the ground. Maybe they need volunteers to pick up trash at a park for the day. There are ways to give back to the place you're enjoying.
Sometimes, it's OK to just not go.
There are parts of the world that are actually being harmed by an influx of tourists. In Moab, Utah, for instance, crowds of visitors are resulting in a breakdown of infrastructure for local people. From illegal fire pits that lead to widespread damage to the overuse of natural resources, the problems are aplenty when visitors flock to a place without thinking about whether their presence is actually harmful.
Last spring, many local Hawaiians expressed their wish that people would stop visiting their home. A disregard for public safety and ridiculous price increases that make living there untenable are just some factors that they pointed to when asking folks not to visit. If a destination has been on your bucket list and the local people are saying that your presence is actually detrimental to their way of life, center the people most affected and just don't go.
Whether you're traveling locally or globally, it takes thought and intention to travel through an anti-racist lens. Anti-racism shouldn't just be a goal of your family's when you're within your community. It should be a goal that permeates every area of your life. As you explore this holiday season (safely, please! Wear your masks!), think of yourself as someone with a responsibility to the world and seek to leave a positive impact throughout all you do.
Raising Anti-Racist Kids is a column written by Tabitha St. Bernard-Jacobs focused on education and actionable steps for parents who are committed to raising anti-racist children and cultivating homes rooted in liberation for Black people. To reach Tabitha, email hello@romper.com or follow her on Instagram.