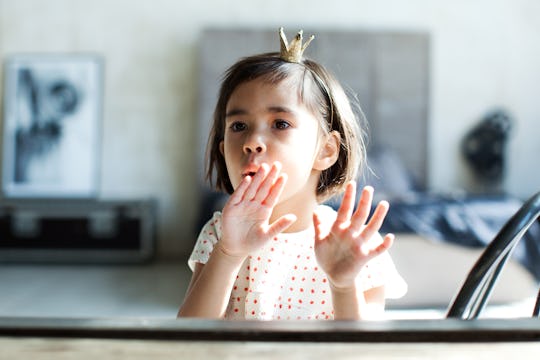 yulkapopkova/E+/Getty Images
15 Really Cute Nail Designs For Kids
Options for the patient kids and for the wiggly ones.
Some kids love to express themselves and show off their style any chance they can get, whether it's through their clothes or accessories. Nail art is another great way for them to show some personality, and there are so many cute nail designs for kids that you can re-create or use as inspiration for something a little different. There are plenty of kid-manicure ideas, whether they are able to sit for a detailed design or they only have enough patience for one coat of a solid color before they want to run around again.
Is Nail Polish Safe For Kids?
There are some kids who are well into elementary school (or beyond) before they have any interest in painting their nails, then there are some who aren't old enough to even form a complete sentence yet, but still manage to ask you to paint their nails. No matter when they start to show interest, though, caregivers often wonder whether or not nail polish is safe for kids and, if so, what is the right age to let them start painting their nails.
In an email to Romper, dermatologist Marisa Garshick, MD, FAAD, explains that there's no magic age for painting kids' nails. "It is personal preference," she says, "[and] people often prefer to wait until a child is old enough to avoid putting their hands in their mouth." This is because when kids are putting their fingers in their mouths if there is polish on their nails they're potentially ingesting the chemicals and ingredients found in a lot of nail polishes.
The tricky part is that even if your kid isn't sucking their thumb anymore, they may still be putting their hands in their mouth in other ways, even if it's just while they're eating. Because of this, Dr. Garshick suggests that when caregivers do decide to paint their kids' nails that they are mindful about which products they use. "It is best to find products that are water-based and free of certain chemicals such as formaldehyde, toluene, camphor, and DiButyl Phthalate (DBP)," she says. Some of her favorite polishes include Piggy Paint, Ella + Mia, and Suncoat Girl.
If you're all stocked with a few shades of non-toxic nail polish, then put it to work by recreating some of these cute nail designs for kids.
Expert:
Marisa Garshick, MD, FAAD, Clinical Assistant Professor at Cornell