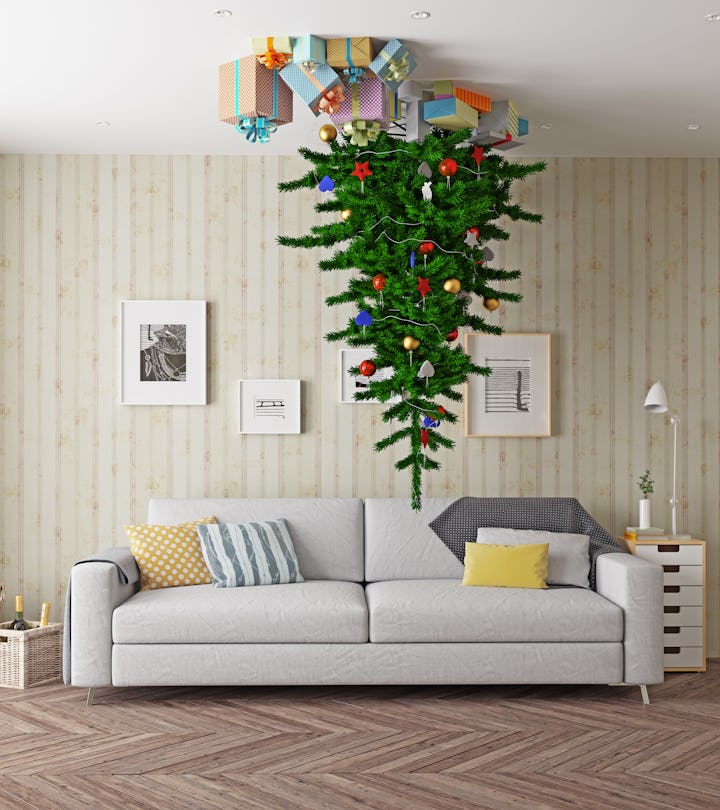 Shutterstock
Check Out This List Of Ways To Toddler-Proof Your Christmas Tree
Save your curious toddlers from themselves and ensure your tree is still standing by Dec. 25 by implementing one of these ideas.
In lieu of hanging the tree from the ceiling upside down like the photo above (and let's be real, this is impossible to do), it's that special time of year where parents of toddlers everywhere are trying to figure out how to keep their toddlers out of the Christmas tree. Whether they're trying to keep them from breaking Great Aunt Rhea's porcelain glass angel that's been passed down for generations or just keeping them from knocking the entire thing over and scattering pine needles and tinsel everywhere, something needs to be done to keep these curious (and quick!) toddlers at bay.
There's obviously the skipping the Christmas tree until they're older route, but what's the fun in that? I know I personally couldn't just not have a tree at Christmas. I did that when I was in college and when I lived alone. Talk about depressing — 0/10 stars, would not recommend. But there are some tried and true ways to keep your toddler and your tree safe this holiday season, so everyone can have a happy Christmas, according to these decorating experts and kid experts, AKA parents. Check out these different ideas and choose the ones that fit your family best. Toddlers are something else, aren't they?
We only include products that have been independently selected by Romper's editorial team. However, we may receive a portion of sales if you purchase a product through a link in this article.