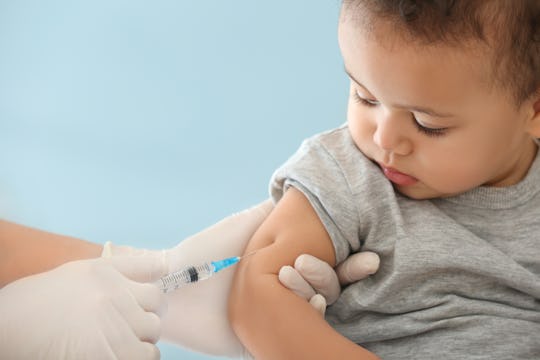 Shutterstock
Should Parents Consider Delaying Covid Vaccines Until Closer To School Starting?
A pediatrician walks parents through the decision-making process, from recent infections to a possible fall surge.
It's the moment many parents have been waiting for for years: Covid-19 vaccinations for kids under 5 years old are now available. While some parents are rushing to get the vaccine as soon as possible, another cohort of mothers and fathers are questioning the ideal timing of the first shot. Approval at the beginning of summer has some parents, who definitely plan to vaccinate, wondering if they should wait until closer to the beginning of the school year to start their course of shots.
The decision is made slightly more complicated by the fact that two vaccines have been approved for the youngest Americans, and each has a different course of shots.
In rural northern Pennsylvania, Laura Bierbower and her husband Rich have been extremely careful to protect their newly 5-year-old son, Bence, from a Covid infection, in spite of the fact that many in their community have been far more lax about possibly exposure.. The Bierbowers have been anxiously awaiting a vaccine for younger kids, and were excited by the new approval. Except now, it's summer. Both educators, they are now facing several months where Bence is home with them – not in childcare or in summer camps.
Despite their cautious behavior, Bence did contract Covid in early June 2022. After talking with their pediatrician, they were advised to rely on his natural immunity for a few weeks and begin the series of vaccinations around the time he begins kindergarten. "Then he'd have a more recent immunity for the fall surge I'm sure we'll see in our area for the holidays," says his mom.
Should parents wait to vaccinate their kids under 5?
Officially, the answer is no. The alphabet soup of medical authorities that have attempted to guide us through the past two years – the CDC, the FDA, and the AAP – recommend parents seek out a Covid vaccination as soon as their child is eligible.
Many pediatricians though, like Bence's, are trying to look at the vaccination process moving forward with some nuance. The experts now know that the immunity from the current vaccines, which are based on ancestral strains [read: the OG version] of Covid, wanes pretty quickly when it comes to preventing infections. Vaccinated kids still have almost no chance of hospitalization or death from Covid, but protection against infection peaks soon after the shots are administered.
That's why there's a bit of gray area as parents learn to navigate a world with endemic Covid. The Bierbowers' decision to hold off makes sense to some pediatricians. "In a case where you will have a summer of limited contact with mostly outdoor activities, it would be very reasonable to ensure that you are at your period of 'maximum protection' when the school year starts," says critical care pediatrician Dr. Anita Patel. "If you are going with the Pfizer vaccine, that means waiting until 13 weeks before the school year starts, or with Moderna, six weeks." (Patel goes into depth about the new vaccines on a recent episode of The Washington Post's Post Reports podcast.)
A few parents have asked about their kids that are almost 5 years old; should they push to — or wait for — access to the vaccines for that age group, which are a larger dose of vaccine. Patel says for healthy children who are a few weeks shy of that larger dose, it might be advantageous to wait until their 5th birthday. She encourages parents to reach out to their pediatrician with questions about their specific situation.
Which kids should be vaccinated right away?
Kids with underlying health issues or heightened risk for Covid complications should not delay their vaccination unless directed by a doctor.
For Melody Argondizzo of Pittsburgh, no one needs to tell her twice to rush to her closest clinic. The majority of American families have relaxed their Covid mitigation efforts, but their family hasn't been able to breathe easy yet. Her 2-year-old Micah was born with hypoplastic left heart syndrome, and doesn't remember a world without Covid lockdowns. Argondizzo says she sees lots of friends weighing the decision about when to get their kids vaccinated. It makes sense to her to try to anticipate the next surge. They are just ready to break loose, though. "It's a no brainer for us, since this is the threshold we have been waiting on. Nine weeks until we are free for the first time in 2.5 years."
Agrondizzo also worries about delaying the vaccination now, and missing a needed booster later. "I'm hearing flutters of an Omicron-specific booster shot, and if we waited to get our kids' shots till the fall, they'd have to wait til early spring to get that Omicron shot."
Patel confirms that Moderna already has an updated shot in the works. "I consider these shots to be excellent at preventing severe disease, hospitalization, and death in their current state. The good news is Moderna is already testing the Omicron-specific booster in children so we will hopefully have a vaccine with better protection against Omicron in the near future."
How long does a past Covid infection protect kids from reinfection?
While the CDC does not recommend delaying vaccination due to timing of past Covid infections, Patel does recognize why some parents might want to capitalize on that short window of natural immunity. "In general, most kids and adults should have some sort of protection conferred by antibodies that peak about a month after infection and then wane by three months. So if your child had a recent covid infection, I personally would wait to start the series one to two months after their first infection." However, Patel adds that if a child is immunocompromised, she would not advise waiting, regardless of past infection.
How do you choose which vaccine is better for a kid under 5?
When older elementary-aged children became eligible for vaccination last fall, the only option available to parents was the Pfizer vaccine. This summer, though, both Moderna and Pfizer have been approved by an Emergency Use Authorization for kids ages 6 months through 5 years old.
Is one vaccine better than the other? Not really, says Patel. As parents may remember from the earliest vaccine rollout, the best vaccine is the one that is available to you. There are some differences between the two medications, of course. Moderna is two doses, so full protection occurs within six weeks. Pfizer, with a series of three doses, takes 13 weeks to reach full effectiveness. Pfizer has shown a slight lead in studies as far as effectiveness, but Moderna already has a booster shot approved. "Only time will tell once the vaccines roll out what the true real-world effectiveness of both these vaccines are, but based on the data from older children, I do not anticipate a significant advantage of one vaccine over the other," says Patel.
Bottom line, from a pediatrician at one of the nation's top-ranked hospitals? Patel says get your kids vaccinated, period. There might be a bit of nuance to the timing, but ultimately she urges parents to protect their kids. The vaccines have been shown to be safe and effective. Perhaps the strongest vote of confidence, not just as a doctor but as a mother? She is planning to immediately vaccinate her own 2-year-old daughter, Sita.
Expert:
Dr. Anita K. Patel, MD. Critical Care Specialist at Children's National in Washington, D.C.