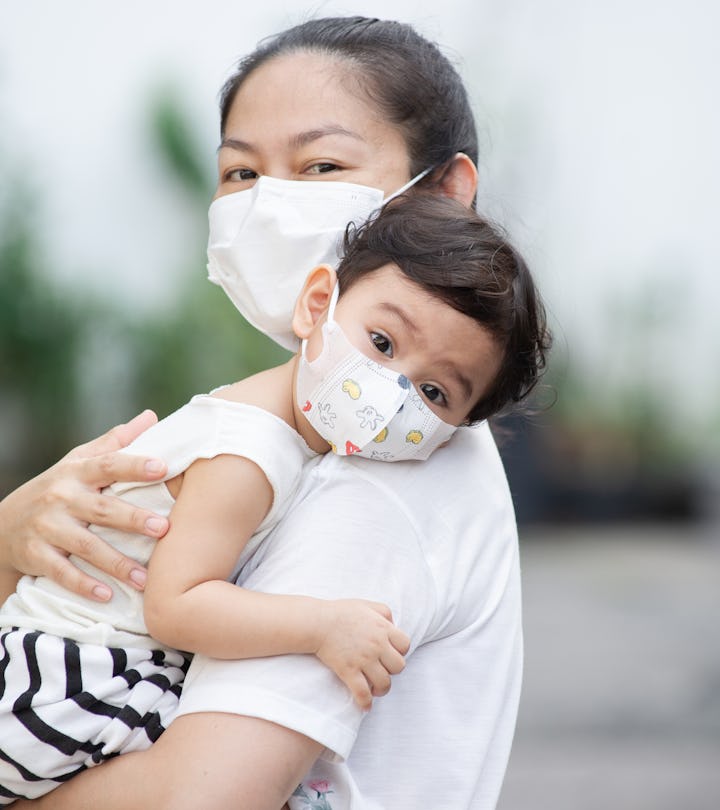 Shutterstock
Your Guide To The Covid Vaccine For Kids Under 5
Here's what we know so far.
If you're a parent to a child under age 5, the time for your littlest kids to get vaccinated has finally arrived. A three-dose Pfizer-BioNTech vaccine and a two-dose Moderna vaccine have received Emergency Use Authorization (EUA) from the Centers for Disease Control and Prevention (CDC) based on the recommendation from the Food and Drug Administration (FDA), as well as its own expert panel.
Is the Covid vaccine available for children under 5?
Covid vaccines are officially available for children ages 6 months to 4 years. On June 9, the Biden administration published an operational plan to distribute vaccines to the under 5 age group, dependent upon recommendations from the U.S. Centers for Disease Control and Prevention (CDC).
The shots are being rolled out to pharmacies, doctors offices, and children's hospitals around the country.
What types of Covid vaccines are available for children under 5?
The EUA approval for the Pfizer-BioNTech vaccine had been delayed several times over course of the spring, frustrating the parents of infants, toddlers, and preschoolers keen to protect their children from the worst of the the coronavirus and exhausted by constant school and daycare closures. Pfizer researchers were reportedly concerned that, in the presence of the Omicron variant, their original two-dose vaccine would be insufficient to protect young children. However, the now three-dose vaccine is 80% effective at preventing symptomatic Covid, according to Pfizer's findings, though the number of children in their study who contracted the virus at all – just eight in the placebo group and 2 among children receiving the vaccine – warrants further study.
The Moderna vaccine for children 6 and younger was also approved. Just two doses, this version of the vaccine could immunize children more quickly, though appears to be somewhat less effective at preventing symptomatic infection. (It should be noted, however, that both vaccines meet the FDA and CDC thresholds of efficacy.)
Where can parents get a Covid vaccine for children under 5?
Much like vaccines for older kids, Covid vaccines for children under 5 are widely available and accessible. "Vaccinations will be available at pediatricians' and other doctors' offices, community health centers, rural health clinics, children's hospitals, public health clinics, local pharmacies, and other community-based organizations," reads the White House's operational distribution plan. "The Administration will also work with state and local public health departments and others to ensure that every child — including those who may not have a pediatrician or primary care provider — has access to the vaccine."
Is the Covid vaccine dose for children under 5 different than for older kids and adults?
The Covid vaccine dose for the under-5 age group is different from the one used for older kids and adults, according to Gabrina Dixon, M.D., a board-certified pediatrician with Children's National Hospital in Washington D.C. Not only would the dose be significantly smaller, but the vaccine vials themselves would be packaged and marked differently to help providers tell them apart, Dixon tells Romper.
The Moderna vaccine dosage would reportedly be offered to this age group in a two-shot series at one-quarter the strength of the adult dosage, while the Pfizer vaccine dosage would be a three-shot series at one-tenth the strength of the adult dosage.This is the course that each company concluded would give young kids the best immune response.
How many shots do children under 5 need?
"The Pfizer vaccine for children under 5 will be a three-dose series with the second shot 3 weeks later and the final dose 2 months after that," Dr. Candice W. Jones, a board-certified pediatrician, tells Romper. "The Moderna series will be two doses four weeks apart."
Whether or not kids under 5 will eventually need boosters is yet to be determined. "The clinical trial is ongoing and data on length of immunity and necessity of boosters is not available at this time," says Jones.
If your child under 5 has already had a previous Covid infection, it is expected that they may have some level of immunity, but Dixon still recommends that they receive the Covid vaccine.
Pfizer's vaccine is approximately 80% effective in preventing symptomatic Covid in kids under 5, while Moderna's vaccine is 51% effective for kids under 2 and 37% effective for kids ages 2 to 5, according to Dixon.
What are the side effects of the Covid vaccine for children under 5?
"Some side effects in children include pain and/or swelling at the site of injection, fever and chills," Dixon tells Romper. However, Dixon also notes that, "Some children experienced no side effects," when vaccinated.
"The side effect profile is expected to be safe and similar to the vaccine in the 5-11 year range," Jones tells Romper. While severe complications such as anaphylaxis, myocarditis, and pericarditis have been seen post-injection in older age groups, these are rare.
How should parents prepare for their kids under 5 to get vaccinated?
Parents who plan to give kids a pre-shot dose of Tylenol or Motrin to ward off potential soreness or other side effects should reconsider, since side effects are uncommon."I would not give any medication beforehand because some children may not experience any side effects," Dixon says.
Also, Dixon stresses that you should "make sure to tell your provider if your child has any allergies," prior to getting them vaccinated.
If your child is anxious about getting a shot, consider bringing a stuffed animal for comfort and practicing deep breathing. Also, let your provider know about your child's fear — they can be a helpful ally and usually have some tricks up their sleeve to help scared kids sail through the process.
And even the littlest kids can feel proud that they are part of a solution to a huge challenge that their communities, friends, and families have faced. Explain that you got the vaccine and now it's their turn. "You are a great model for your child that the Covid vaccine is important and you all got through the process just fine," Jones explains. "Relate to their nervousness but remind your child that they can do it too and cheer them on for being part of the solution."
Experts:
Candice W. Jones, M.D. board certified pediatrician, author of High Five Discipline: Positive Parenting for Happy, Healthy, Well-Behaved Kids
Gabrina Dixon, M.D., board-certified pediatrician and hospitalist with Children's National
This article was originally published on