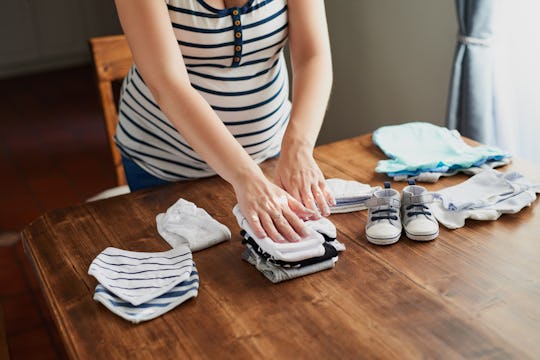 Adene Sanchez, Getty images
Where To Find Affordable (& Cute!) Baby Clothes
Spit-up and diaper blow-outs don't pair well with expensive clothes.
There's nothing quite as cute as adorable, tiny articles of clothing for babies. That being said, unless they're cheap baby clothes, then it doesn't matter how cute they are since your little one will be in the next size up in no time. As tempting as it is to buy every sweet little outfit you come across, it's not exactly the wisest investment, that's why it's helpful to know where to buy affordable baby clothes.
Stocking up on baby clothing is tricky because you know that the clothes are only made to fit for around three months, but you can't get away with only having a few pieces, otherwise, you'll be doing laundry even more often than you already are. Not to mention, between diaper blow-outs, spit-up, and finger foods, no article of clothing is totally safe from being destroyed by the baby wearing it. Basically, determining the right amount of clothes to have for your baby at any given time is extremely difficult, but no matter what, the less money you spend on these short-term cheap baby clothes, the better.
The question, though, is where to buy cheap baby clothes? Depending on what you're looking for, there are probably a lot more options than you realize. Here are just a few brands and stores that sell affordable baby clothes year round.
We only include products that have been independently selected by Romper's editorial team. However, we may receive a portion of sales if you purchase a product through a link in this article.
They say babies grow in the blink of an eye, and before you know it you'll be folding up your favorite onesies knowing your baby will never fit into them again. While there's no hack to eliminate the bittersweet emotional pain of these moments, you can at least minimize the financial pain by knowing where to buy cheap baby clothes.
This article was originally published on