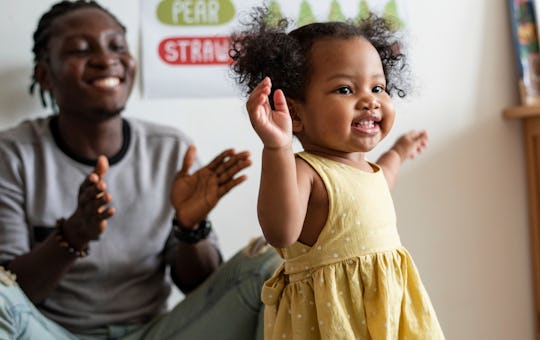 Shutterstock
These Baby Names Are In The Same Vein As Ella
You can find a lovely name with a similar feel.
Weirdly enough, settling on the perfect name for your unborn child can be one of the most stressful parts of your pregnancy. You want to make sure you pick something that suits your child (which is nearly impossible to do, considering they, um, don't have a personality just yet) and, obviously, you want to love that name. But if you're looking for names that are similar to super popular monikers, such as baby names if you like Ella, you can really open up some doors.
Sometimes you have your heart set on a name that just isn't going to work out. Maybe you're really into it, but your partner isn't a fan. Or maybe someone close to you has already used the name, and you don't want to use it as well. That might be the case with the name Ella, and while it's disappointing initially, there are plenty of names out there that like Ella in both sound and meaning, and they're just as lovely. Bonus: you may even end up liking them more.
The History And Meaning Of Ella
Ella is an enchanting-sounding name that has a few different meanings. It's the shorter form of Eleanor and Ellen, and it definitely has a more youthful, magical feel to it. It has ancient German origins and may come from the word "alia," which means "all," or the word "alja," which means others. In modern Hebrew, Ella means "goddess." In Spanish, Ella means "she" or "her," so it can be interpreted to mean "feminine." And in Greek mythology, Aella is the name of the Amazon daughter of Ares and Harmonia.
If you're looking for a baby name like Ella, opt for something that feels just as light and magical. Here are our favorite picks below.
Finding a baby name like Ella is really not that difficult — there are so many wonderful options out there. Now all you have to do is narrow them down to your favorites and actually pick just one. That's the hard part, but the good thing is, you can't go wrong with any of the above.
This article was originally published on